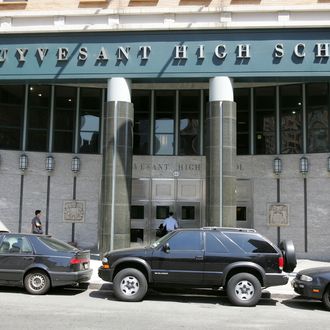 Photo: Peter Kramer/Getty
Two more apparent members of "cannibal cop" Gilberto Valle's fetish-oriented social network were arrested Monday for allegedly plotting to kidnap, torture, and kill women (though not to eat them). One was a former librarian at Stuyvesant High School named Robert C. Asch, who was fired in 2009 after he was accused of inappropriately massaging some of the students. The other was Richard Meltz, police chief at the Veterans Affairs Medical Center in Bedford, Mass.
The equipment Asch allegedly brought with him to meet an undercover F.B.I. agent posing as a co-conspirator Monday morning did not suggest he still had massages in mind: "He brought two bags with him to the meeting point, near Battery Park. Inside were a Taser gun, meat hammer, skewers, zip ties, cleaning supplies and a dental retractor, according to the criminal complaint." The woman they were allegedly there to stalk, however, was not a stranger but another F.B.I. agent, and both Asch and Meltz, with whom he allegedly conspired online, were arrested.