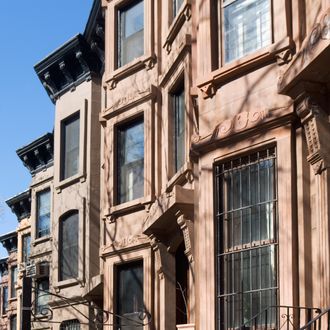 Gone in 60 seconds.
Photo: Fotog/Tetra Images/Corbis
The laws of supply and demand are on full display in first-quarter real-estate market reports released today by the city's major brokerage and database firms. According to the Douglas Elliman report by appraisal firm Miller Samuel, the median price of an apartment in Manhattan is $820,555, up 5.9 percent from the first three months of 2012. (The average price is now $1.354 million.) In fact, says Jonathan Miller, who prepared the Miller Samuel survey, "all price indicators increased from year ago levels," in large part due to a big slump in inventory; there were 4,960 active listings in the first quarter, an astonishing 34.4 percent dip from the same time last year. Miller says inventory, which had been falling for a while, has actually "accelerated in [its decline] the last six months."
Selling an apartment these days is a lot faster now, too; Brown Harris Stevens and Halstead Property's report found that it takes 111 days on average to find a buyer — 14 percent faster than a year ago. New developments, once the bane of the market, are no longer: Per the Corcoran Group, the median price rose 37 percent from 2012 to $1.312 million.
Demand remains fervent despite lots of competition in the marketplace. Streeteasy.com says the number of properties that went into contract these last three months increased by 15 percent, to 3,066. " It's really remarkable because January and February was just really crazy. This past January showed a 32 percent in signed contracts compared to 2012," declares Sofia Song, Streeteasy's vice-president of research. "That's insane. This is the highest number of contracts in the first quarter and the second highest of any quarter since the meltdown of 2008."
Unsurprisingly, sellers are becoming quite confident, with 799 listings seeing their prices boosted — a 27.6 percent spike. All this to say that 2013 is shaping up to be the "Year of the Frustrated Buyer," says Song. "You have a lot of pent-up demand. You have a lot of people feeling like if they don't act now, they'll miss the boat. They want to take advantage of historically low rates and they don't want to be priced out of the market." They may be already.