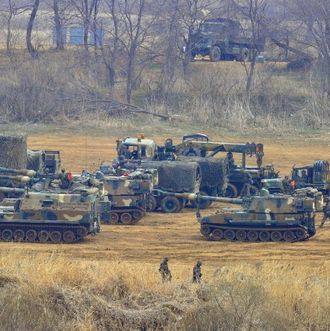 As China and the United States warned North Korea to stop escalating tension with its neighbors, the North looked to be getting ready for a fourth nuclear test on Monday, pretty much flying in the face of its most powerful ally. Chinese President Xi Jinping said in a speech on Sunday that no country "should be allowed to throw a region and even the whole world into chaos for selfish gain." But just a few hours later, a South Korean newspaper reported that a South Korean government official said activity at the North's nuclear test site looked familiar. "We are monitoring because the situation is similar to behavior seen prior to the third nuclear test," the JoongAng Ilbo newspaper quoted the unnamed official as saying.
That alert comes just as the United States and South Korea said they would ratchet up their own response to whatever provocation the North offered next, the New York Times reports:
American officials described the new 'counterprovocation' plan as calling for an immediate but proportional "response in kind" — hitting the source of any North Korean attack with similar weapons. For example, if the North Koreans were to shell a South Korean island that had military installations, as has occurred in the past, the plan calls for the South to retaliate quickly with a barrage of artillery of similar intensity.
President Barack Obama has said the United States would shoot down a North Korean missile headed toward South Korea, Japan, or Guam, but not one headed toward open water. Obama has also "ruled out striking at the missiles while they are on their launchers — when they are easiest to destroy — unless there is evidence they are being fitted with nuclear warheads, which intelligence officials doubt North Korea yet possesses."
We may get to see exactly what the United States means by "counterprovocation" as soon as this Wednesday, when South Korean officials expect the North to test out another missile. Meanwhile the North's capacity for war stands in contrast to its capacity for Internet. Sites knocked offline last week remain out of commission, Yonhap reports.