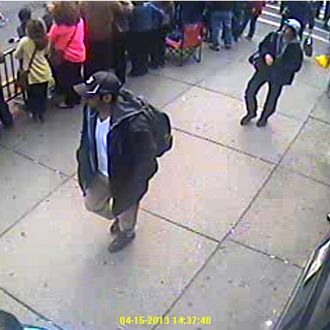 First we learned about the pressure cookers used as bomb casings, then it was fireworks for the explosives, and now it appears the Boston bombing suspects used remote controls from RC cars to ignite the bombs that killed three and injured 264 near the finish line of the Boston Marathon. The update comes from U.S. Rep. Dutch Ruppersberger after FBI and other officials briefed the House Intelligence Committee. The relatively low-tech devices mean the brothers had to be "within several blocks of the bombs," the Associated Press reports. And as we already know, Tamerlan and Dzhokhar Tsarnaev were photographed at the scene.
The new detail about the bombs "says to me, and brother number two has said, they got the information on how to build the bomb from Inspire magazine," Ruppersberger remarked to Reuters. But while the use of the household goods pointed to the suspects following instructions in the magazine and not from any organization, the fact that they were able to successfully carry them out shows they had "had some level of training," U.S. Rep. Michael McCaul, chairman of the Homeland Security Committee, told Bloomberg.
As the physical components of the attack become clear, the brothers' motive remains less so. Officials have asked their parents to come to the United States from Russia to help with the investigation, and the parents have agreed, but it's unclear exactly how much they know. So far, they've insisted the Tsarnaev brothers are innocent. The mother, Zubeidat Tsarnaev, says they were framed "just because they were Muslim." The father, Anzor Tsarnaev, "called [Dzhokhar] a 'true angel,' and an aunt has insisted he's not guilty," AP reports.