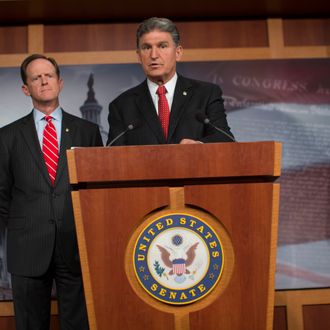 Nothing the NRA has said publicly in the last few months suggested that it's going to take reasonable positions on gun control, but that wasn't apparent to the two senators who came up with the bipartisan deal reached this week. The NRA was a "ubiquitous presence" during negotiations between Democrat Joe Manchin and Republican Pat Toomey, and on Wednesday Manchin's office told BuzzFeed that the group was "neutral" on the bill. A relatively mild statement was released by the NRA immediately after the senators' press conference added to the confusion, and later the group was forced to issue another statement clarifying that it will throw all of its weight behind fighting the gun bill — though expanding background checks to include gun shows and Internet sales is a far cry from the "universal" background checks supported by 9 out of 10 Americans.
While the NRA said in its original statement that the lack of universal background checks was a "positive development," in a letter sent to senators on Wednesday night, Chris Cox, the group's chief lobbyist, said it's "unequivocally opposed" to the Senate's gun bill, as well as the "misguided" compromise offered by Manchin and Toomey. The letter concludes:
We hope the Senate will replace the current provisions of S. 649 with language that is properly focused on addressing mental health inadequacies; prosecuting violent criminals; and keeping our kids safe in their schools.  Should it fail to do so, the NRA will make an exception to our standard policy of not "scoring" procedural votes and strongly oppose a cloture motion to move to final passage of S. 649.
At least thirteen Republicans are planning to filibuster the gun bill before a procedural vote on Thursday, but several Republicans have said they won't participate, which should give Harry Reid the 60 votes needed to begin debate on the bill. However, as The Hill notes, the bill will then face a second procedural vote, and the NRA's scoring could scare off some senators who were planning to oppose a second filibuster. So the watered-down gun bill could fail because a few GOP lawmakers are worried that simply allowing a vote — even if they then voted against the bill — could drop them down a letter grade with the NRA.