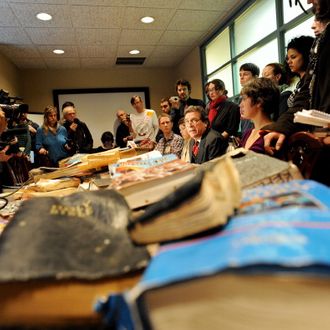 New York City and Zuccotti Park owner Brookfield Properties have agreed to pay $366,700 to settle a lawsuit over the chaotic November 2011 police raid on the Occupy Wall Street encampment at the plaza. The bulk of that goes to cover the damages and legal fees stemming from the destruction of Occupy's supply of books and computers, known as the People's Library. City lawyers, as they often do, wanted to make sure people remembered that by settling, the city didn't admit it did anything wrong. But it sure came close.
Occupy had asked for $47,000 to cover the 3,000 books and other equipment it lost, and the city agreed to pay that amount in full (with Brookfield throwing in $16,000), plus $186,000 in legal fees. It also agreed to pay $75,000 in damages and $49,850 in legal fees for the destruction of Global Revolutions TV's live-streaming equipment, and $8,500 to Times Up New York for destroying its pedal-powered generators.
"There are many reasons to settle a case," Sheryl Neufeld of the New York City Law Department, told the New York Times. "And sometimes that includes avoiding the potential for drawn out litigation that bolsters plaintiff attorney fees."
But the language in the settlement, of which Occupy attorney Norman Siegel told The Village Voice, " we would not have settled without this," sounds downright conciliatory. After calling the destruction of the books and equipment "unfortunate," the settlement goes on:
Plaintiffs and Defendants recognize that when a person's property is removed from the city it is important that the City exercise due care and adhere to established procedures in order to protect legal rights of the property owners.
It's not a full-fledged mea culpa, but it's sure not a "here's a check, now go away," either.