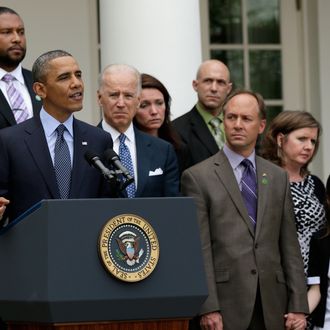 Photo: Win McNamee/2013 Getty Images
A shaken and angry President Obama called out "the gun lobby and its allies," along with 90 percent of the Republicans in the Senate, in a speech from the White House Rose Garden this evening, following the voting down of amendments to strengthen gun control. "All in all, this was a pretty shameful day for Washington," he said, after an emotional plea from the father of a child killed in the Newtown massacre. Former representative Gabrielle Giffords joined the distraught family members of gun-violence victims and Vice-President Joe Biden by the president's side. "The American people are trying to figure out, how can something have 90 percent support and not happen?" Obama said, blaming those who "willfully lied" about the contents of the bill while pledging to keep fighting.
"There are no coherent arguments for why we didn't do this," said Obama, arguing that it "came down to politics." He urged voters to not give up, to contact their representatives and express disappointment, and to remember this battle come Election Day.
"Those who care deeply about preventing more and more gun violence will have to be as passionate and as organized and as vocal as those who blocked these commonsense proposals to keep our kids safe," he stressed. "I see this as just round one."
Update: On the other side, Mitch McConnell is celebrating the vote with memes on Facebook: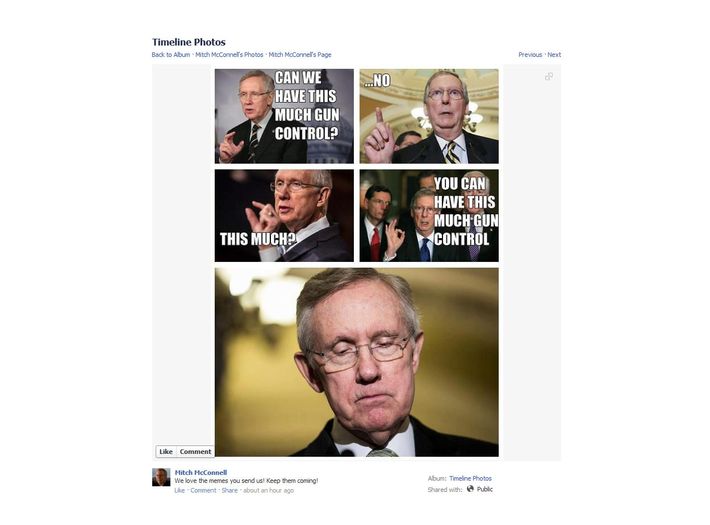 Update II: The New York Times posted an op-ed by Gabby Giffords on Wednesday evening. Like President Obama, she isn't holding back:
Speaking is physically difficult for me. But my feelings are clear: I'm furious. I will not rest until we have righted the wrong these senators have done, and until we have changed our laws so we can look parents in the face and say: We are trying to keep your children safe. We cannot allow the status quo — desperately protected by the gun lobby so that they can make more money by spreading fear and misinformation — to go on.

I am asking every reasonable American to help me tell the truth about the cowardice these senators demonstrated. I am asking for mothers to stop these lawmakers at the grocery store and tell them: You've lost my vote. I am asking activists to unsubscribe from these senators' e-mail lists and to stop giving them money. I'm asking citizens to go to their offices and say: You've disappointed me, and there will be consequences.