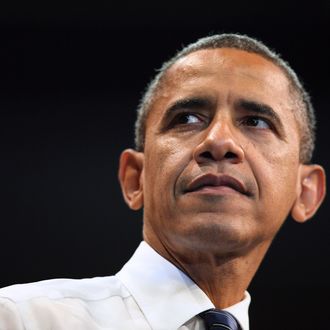 Photo: Joe Raedle/2012 Getty Images
Hopefully President Obama enjoyed his break from fund-raising, because just five months after the election he's back to soliciting campaign contributions. While the White House is highlighting Obama's push for federal gun-control legislation this week, the Washington Post reports that during his two days on the West Coast, he'll also be headlining four fundraising events in the Bay Area, where donors will pay up to $32,400. In addition to raising money for Organizing for Action, his campaign apparatus reanimated as a nonprofit, President Obama is already committed to fourteen Democratic Party fund-raisers this year.
It isn't unusual for presidents to do some fund-raising for their party after reelection, but it's interesting that Obama has already committed to eight fund-raisers for upcoming House elections, while he only did five in the year before the 2010 midterms. "The increased attention on the House by Obama is certainly a sign that efforts to win back the House will be a big focus over the next few years," says Brendan J. Doherty, author of the book The Rise of the President's Permanent Campaign. It also seems like a sign that the insane fund-raising that took place during the presidential campaign will carry over into the midterms. Still, it could be worse. Doherty says that when the Democratic Party was trying to eliminate its debt after the 1996 campaign, President Clinton did 77 fund-raisers in one year.