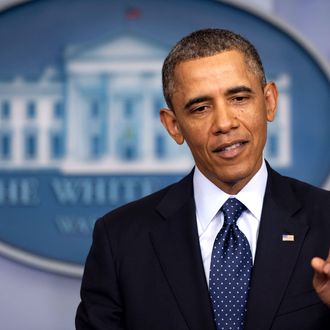 US President Barack Obama speaks to the media about sequestration in the Brady Press Briefing Room at the White House in Washington, DC, March 1, 2013 following a meeting with US Speaker of the House John Boehner and Congressional leaders. Obama summoned congressional leaders Friday in a bid to avert a damaging $85 billion in arbitrary budget cuts. Obama was bound by law to initiate the automatic, indiscriminate cuts, which could wound the already fragile economy, cost a million jobs and harm military readiness, in the absence of an deficit cutting agreement.
Photo: Saul Loeb/AFP/Getty Images
In solidarity with the many federal workers who are losing pay because of the sequester (which doesn't affect elected officials), the White House announced today that President Obama will be taking a voluntary 5 percent pay cut. The real news is that most members of Congress — the people (many of them millionaires) directly responsible for the sequester — aren't doing this, too.