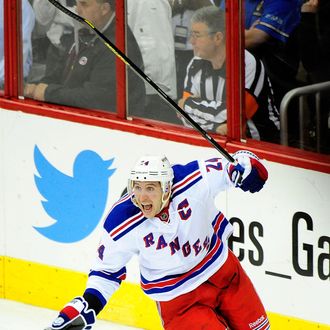 Ryan Callahan, after scoring the overtime winner last night.
Photo: Grant Halverson/Getty Images
Clinching a playoff berth wasn't supposed to be a big deal anymore for the Rangers. This is a team that's one year removed from earning the top seed in the Eastern Conference, and just a few months removed from being one of the favorites to win the Stanley Cup. Clinching a playoff berth was supposed to be a sort of footnote, acknowledged a couple of weeks before the season ends while the team jockeyed for positioning at the top of the conference.
And certainly, the days of sweating it out until the final few games of the season were supposed to be over. In 2011, they clinched their spot in their final game of the season with a win over New Jersey. In 2010, they had their destiny in their own hands on the final day of the season but lost to Philadelphia in a shootout. (Damn you, Olli Jokinen.) Last year, when they cruised to a postseason berth, was a step forward. And this year, so far, has been a step back.
Having said all that, clinching a playoff berth late in the season — as the Rangers did last night with an overtime win in Carolina — is better than not clinching one at all, and so save for the injury to Ryane Clowe, last night was a very good one for the Rangers. John Tortorella's team actually would have clinched last night anyway even if they'd lost because Winnipeg earned no points against Montreal, but it's certainly more satisfying to do it on a precision Ryan Callahan snipe than to do it by scoreboard watching.
This season has been a year-long reminder for Rangers fans to keep their expectations in check. We're far enough removed from the days of Bryan Trottier and Ron Low that Rangers fans no longer expect disaster, but the level of enthusiasm going into this season was something new. It wasn't the false hope that came along with the dual signings of Chris Drury and Scott Gomez in 2007. This was a team that came close to reaching the finals last year — one that had, at long last, been built the right way — and then added an elite scorer in the off-season.
In hindsight, we now know that the balance of the team was all off — that it lacked depth, which was made all the worse when certain big-money players were also underachieving. Glen Sather's deadline moves addressed that issue, however, and the Rangers have been playing some of their best hockey of the year of late. With one game remaining, they have a 9-3-1 record in April, though it must be noted that their schedule in the final two weeks of the season was pretty soft.
Still, the Rangers have reason to feel good going into the playoffs, especially considering that Henrik Lundqvist has been sharp down the stretch, if overworked. Their seed has yet to be determined, but with the fifth out of reach, they know they'll begin on the road against a division winner. This isn't exactly where Rangers fans expected the team to be going into the season, but particularly in the chaotic Stanley Cup playoffs, reaching the postseason even as a low seed gives you a chance. The 2013 Rangers haven't lived up to expectations to this point, but starting next week, they can change all that.