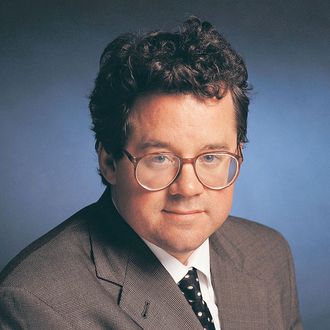 Photo: Getty Images/The Washington Post
The ideological aftershocks of the Iraq war, ten years later, have reverberated through a smaller debate over Michael Kelly, a journalist who died covering the war. Mike was a giant in the field, an intensely loved or hated figure even before he died, and the debate over the meaning of his life and death has broken down over largely, though not entirely, the same lines as the debate over the war itself. A sense of how Mike is revered can be gleaned from remembrances like this, and in the annual awards given out in his name. That reverence has spawned a sharp counterattack from figures like Tom Scocca and Ta-Nehisi Coates, who brutally assesses Kelly's column and concludes:
[G]reat fathers and great husbands die with some regularity and do not merit remembrances in national publications. Michael Kelly is not publicly notable because of his personal fidelity but because of his professional work. Faced with a historic conflict, Kelly's professional work amounted to a gleeful embrace of what was wrong, and a gleeful assault on what was right.
Coates's estimation of Mike's opinion writing is fair. Actually, it's more than fair. Mike was a dreadful columnist. I don't mean that because I disagreed with him. He was incapable of marshaling evidence or crafting arguments. He assumed all his premises and used rhetoric as a moral bludgeon. In the light of history, when the premises have been conclusively disproven ("The people who believe what Chirac at least professes to believe are, in the matter of Iraq, as wrong as it is possible to be"), the emptiness of the exercise is exposed.
But to define the man by his work as a columnist is a disservice. Mike became a legend in his own time as a long-form reporter, where he combined deep reporting skills with characteristic gorgeous prose. He subsequently became editor of the New Republic, where he was immortalized for things like this completely true episode captured in the movie Shattered Glass:
That, of course, is the context in which I got to know Mike. He was not only a mentor who supplied fierce loyalty to his staff, but also displayed in that role an ideological ecumenicism readers of his column would never guess. Few of us could ever hope to be great — truly great, legendarily great — at any one thing. Michael Kelly was legendarily great at two of them. It's sad and unfair, though obviously he bears some blame for the unfairness, that he is remembered by so many people for a third thing he tried but never mastered.
When Mike was fired after ten months as editor, for reasons that can largely be deduced from the clip above, we were all devastated, and we gathered at his home for an Irish wake. I live near that house now, and I walk past it to pick up my children in the afternoons, and I miss him.