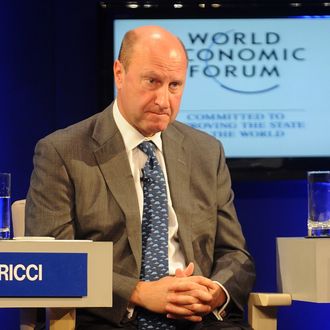 Rich is short for "Richerthanyoubyalot"
Photo: PUNIT PARANJPE/AFP/Getty Images
Barclays investment banking head Rich Ricci — the man with the most perfect name for a wealthy financier since former JPMorgan Chase chairman Plenty O'Moneybags* — has been ousted from the bank in a management shake-up, Bloomberg reports.
Ricci, who, aside from being a nominal determinism case study, is perhaps best known for having a race horse called "Fat Cat in the Hat," is retiring (wink nudge) from the bank after nineteen years. His mistake: Getting involved with Bob "Throw the Roc" Diamond, the former Barclays CEO who presided over the bank during its massive Libor-rigging scandal.
Diamond's replacement as CEO, Antony Jenkins, has already proven himself the king of the B.S. jargon memo. And today, he doesn't disappoint, calling Ricci's ouster an attempt to "streamline" and "de-layer" the bank. Ricci, who was one of Diamond's top lieutenants during the Libor mess, was clearly a layer too much.
Still, you've got to wonder: What does a guy named Rich Ricci do, if he's not being an investment banker anymore? His options, as I see them, are (a) take over for Robin Leach in a Lifestyles of the Rich and Famous reboot, (b) buy this suit from Dennis Rodman and start posing for pictures on Wall Street, or (c) buy an entire fleet of race horses, name them all after billionaires, and host his own race series called the "Majority Stakes." But maybe I'm missing something.
*Not actually.