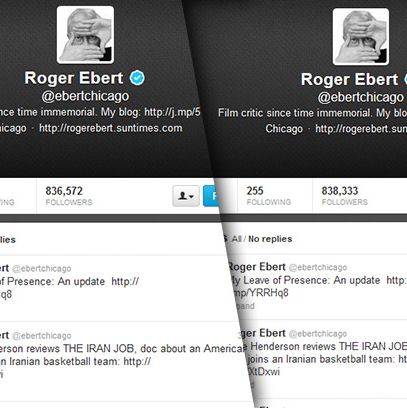 Ebert gained nearly 2,000 new Twitter followers in the hour after his death was announced.
At 3:44 p.m., a few minutes after the news broke that Roger Ebert had died, the legendary film critic and celebrated tweeter had 836,572 Twitter followers. As we write these words an hour later, at 4:44 p.m., Ebert now has 838,333 followers and counting. According to Wildfire, Ebert normally averages around 400 new followers per day, so, clearly, @ebertchicago is experiencing an unusual surge in followers today, and that surge is a direct consequence of his death.
Why thousands of people have decided to follow Ebert now that he's dead is not clear. Ebert isn't tweeting anymore, guys. You missed your chance.
Update, 11:24 p.m.: As of now, Ebert has 841,848 followers, up over 5,000 since the news of his passing was announced. He has yet to tweet.