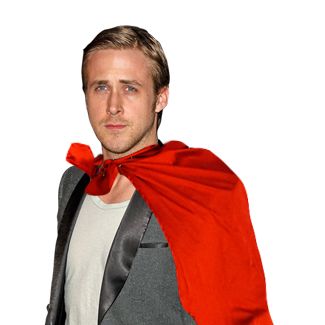 Possible hero Ryan Gosling.
Photo: Photo: Jason Merritt/Getty Images, iStockphoto
Do you remember where you were when you heard that Ryan Gosling saved a British journalist from being murdered by a taxi on the streets of New York? I was sitting at my cubicle, almost certainly in this same pair of jeans.
Gosling's act of selfless heroism occurred on April 3, 2012 — exactly one year ago today. It generated global headlines and fawning praise for the movie star. Strangely enough, though, in the year since the incident was reported, neither Gosling nor his representatives, as far as we can tell, have ever so much as acknowledged that it actually took place. In honor of the momentous event's one year anniversary, we reached out to Gosling's publicist to see if Team Gosling was ready to finally confirm or deny the story, but, like so many others before us, we were met with silence.
We may never know for sure whether it was Ryan Gosling or just someone who looks a lot like Ryan Gosling who pulled Laurie Penny from the path of an oncoming cab. But until we do, a pall will loom over Ryan Gosling Saved a Woman From a Taxi Day.
Update, 4:55 p.m.: We just heard from Cassandre Pallas, the only known eye-witness to the incident aside from Penny. Asked if, in retrospect, she doubted at all that it was Gosling, Pallas told us, "I do not have any doubts that it was him. Mainly because I noticed it was him as he was walking towards me (it is, after all, Ryan Gosling, and so naturally there was a glow around him which I gladly basked in for an all-too-brief 15 seconds) before he gently moved Laurie out of the way."
We still want to hear it from The Gos himself.