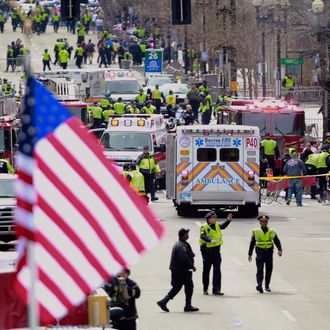 Photo: Charles Krupa/AP/Corbis
Salah Barhoum, the 17-year-old Massachusetts running enthusiast recklessly splashed on the New York Post cover this morning, is doing okay, all things considered. Despite the tabloid's implications that he and his suspiciously not-white friend were suspects in the Boston Marathon bombing, Barhoum hasn't even lost his somewhat naïve faith in the goodness of journalists, "gladly posing for photos and taking media questions outside his home in Revere, Mass.," according to the New York Daily News.
Perfectly set up for a redemption scoop by its sloppy tabloid rival, the News quotes a level-headed Barhoum explaining, "I want people to know I wasn't behind this I was just there to watch and enjoy the marathon, like everyone else."
After he was identified yesterday by Reddit (whose members subsequently attempted to clear his name), Barhoum offered to speak with investigators at the behest of a friend. "He told me this shouldn't happen and you have to stand up for yourself — you can't just let people talk," the teen said. "Yesterday I got more than 200 phone messages!"
"A lot of people have bags, not just me. I thought, 'Why me?'" he added. "The only thing they look at is my skin color and since I'm Moroccan I'm kind of dark." While he was cleared of any involvement, Barhoum knows there could be lasting damage: "People are definitely going to be looking for me just to hurt me. It's too much," he said. "It's such a disaster. To be blamed for all that injury and death. It's the worst." On top of everything, police recommended he delete his Facebook. If only he could delete the Post.