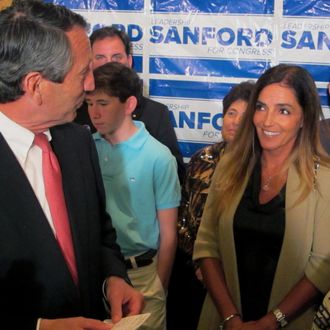 Mark Sanford and Maria Belen Chapur.
Photo: Bruce Smith
Former South Carolina Governor Mark Sanford won his House primary runoff on Tuesday, setting the stage for a potential political comeback — or trouncing by Democratic opponent Elizabeth Colbert Busch, sister of Stephen Colbert. Sanford beat Curtis Bostic, a former Charleston County councilman, 57 to 43 percent, according to the Associated Press. Sanford went into the race as the strong favorite, leading Bostic by more than twenty points in the sixteen-way Republican primary last month. He was also the far more recognizable candidate, since he represented the First District from 1995 to 2001 before serving as governor, while Bostic doesn't even live in the district. Though the results weren't a surprise, Sanford added a bit of drama to the evening by appearing in public for the first time with Maria Belen Chapur, the Argentine woman who euphemistically inspired Sanford to "hike the Appalachian Trail," and is now his fiancée.
Winning the May 7 general election won't be as easy for Sanford. While Republicans have held the seat since 1981 and Mitt Romney won the district with 58 percent of the vote, thanks to the scandal surrounding Sanford (not to mention the Colbert Bump) the election could go either way. An internal poll released by Colbert Busch yesterday had her beating Sanford 47 percent to 44 percent, which is in the margin of error.
Colbert Busch released another unamusing statement after Sanford won the nomination, saying, "I look forward to a vigorous campaign that focuses on creating jobs, balancing our country's budget and choosing an independent-minded leader who shares the values of the great people of South Carolina."
BuzzFeed reports that minutes after the race was called, Democratic Senator Kirsten Gillibrand sent an e-mail urging supporters to donate to Colbert Busch's campaign. She questioned Sanford's "values" directly, noting that he "disappeared from office and used taxpayer money to visit his mistress." Like the Democratic candidate's other famous backer, Gillibrand also signaled that she sees the comedic opportunity in the race. "Elizabeth is exactly the kind of person we need in elected office," Gillibrand wrote. "She has real accomplishments for middle-class families. And, she pronounces the 't' in Colbert."