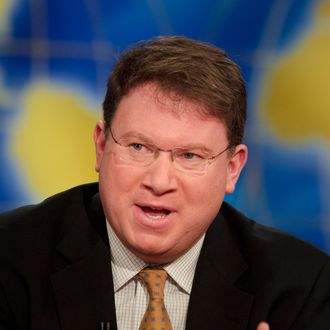 Photo: Brendan Smialowski/2009 Getty Images
Two years in, Bloomberg View, the centrist opinion arm of Michael Bloomberg's media behemoth, has not quite lived up to the hype. A culture clash at the top of the masthead ended with former State Department spokesperson Jamie Rubin, who was handpicked by the mayor, pushed out and telling our own Gabriel Sherman, "without some major changes, I don't believe it will ever be the influential platform [Bloomberg] envisioned." Some changes are indeed afoot.
Huffington Post's Michael Calderone reports that former New York Times editor Jonathan Landman, who took a buyout in the recent round, will come on as editor-at-large, joining former Times man Tim O'Brien, most recently the executive editor at HuffPost, as View's new publisher. More visibly, marquee columnist Jeffrey Goldberg, already in the Bloomberg View family, will end his daily blog for The Atlantic and make View his main home, while still contributing reported stories to the magazine.
While the all-star cast of columnists isn't quite on the Times or Journal's level of influence just yet, the thing about Bloomberg (and his money) is that he's not going to stop until he gets what he wants.