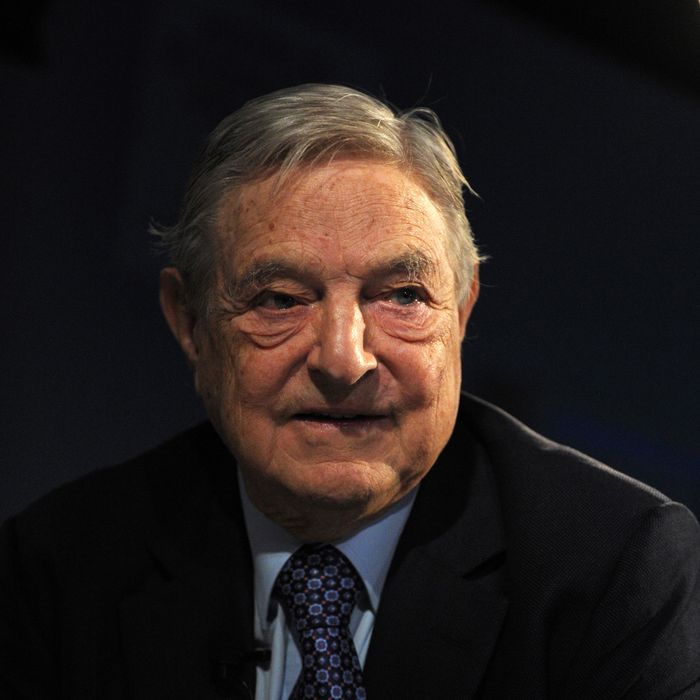 He's alive!
Photo: ERIC PIERMONT/AFP/Getty Images
George Soros, the billionaire investor and lamp-dodging Lothario, is really into J.C. Penney. According to an SEC filing, Soros — whose prewritten obituary ran prematurely in Reuters earlier this month — is in fact very much alive and just bought about 8 percent of the struggling clothing retailer, which just ousted its CEO after the company's stock price continued a months-long slide.
Investors, who still look to Soros for stock tips, brought J.C. Penney's share price up 7 percent in the wake of the announcement.
It's not clear what Soros sees in J.C. Penney. At this point, the business is flailing, with top executives leaving and a new CEO, Myron Ullman, who isn't known as a quick-turnaround artist. Ullman is presumably trying to undo some of the damage done by ex-CEO Ron Johnson, the former Apple executive who tried and failed to turn J.C. Penney into a more upscale establishment. But he may run out of time. Bleeding cash, the store is now drawing down its credit lines and looking for other ways to raise money.
On the plus side for Soros, things at J.C. Penney can't get a whole lot worse. And maybe he can pick up some new workout clothes while he's buying stock.