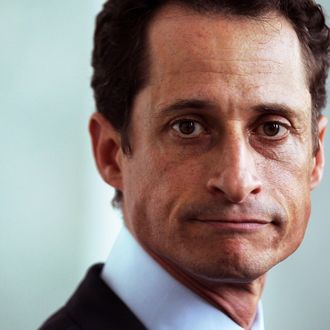 Photo: Alex Wong/2011 Getty Images
Earlier this month, the Post reported that Anthony Weiner's potential rivals for mayor had embarked on a seemingly pointless quest to find more dirt on him. Of particular concern was how the former congressman can afford to rent his $3.3 million Park Avenue apartment when he's suggested that post-scandal he's been caring for his son Jordan, doing "all the laundry," and frequenting his brother's restaurants. It appears that Weiner just forgot to mention his lucrative new career as a corporate consultant.
Weiner tells the New York Times that about a month after resigning from Congress, he incorporated a firm he named Woolf Weiner Associates after his great-grandfather and began advising companies that care more about his expertise in government than the endless pun-riddled reports on his private life. He now has more than a dozen clients, including the international law firm Covington & Burling and electronic medical records provider CureMD. Weiner and his wife Huma Abedin disclosed last week that they made $496,000 in 2012, and most of that came from his work.
Weiner admits — six times in one interview, according to the Times — that transitioning into the business world came easily to him. "I found I am pretty good at it," he told the paper, adding that he "didn't have to do very much or work very hard to drum up business." In addition to explaining why Weiner is now living in swankier digs, his business success may shed some light on why he's so ambivalent about running for mayor. "If I don't get back to public life, would I enjoy stuff like this?" he asked. "Yes."