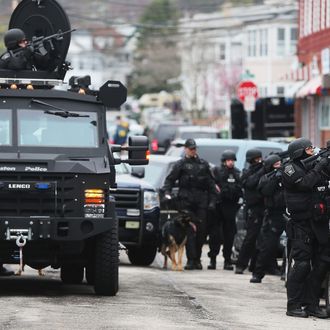 Photo: Mario Tama/2013 Getty Images
One week after the deadly bombing at the Boston Marathon, and a few days after the bloody manhunt that resulted in the death of suspect Tamerlan Tsarnaev and the capture of his brother Dzhokhar, a narrative about the pair is hardening. While Dzhokhar, who remains hospitalized but started responding to investigators' questions, has been portrayed as normal and well-liked, Tamerlan has been called "an increasingly militant immigrant, whom family members described as unhappy and mean," according to the Boston Globe. In the latest round of illustrative anecdotes, the older brother clashed with religious leaders at mosques in the Boston area, clung to conservative values, and did not attend the funeral of a close friend after he was murdered, drawing suspicion from acquaintances.
The Globe reports that Tamerlan interrupted a talk at a Cambridge mosque in January, accusing the speaker of being a hypocritical non-believer, and was shouted out of the building. Months earlier, he disrupted another talk "when a speaker said it was fine for people to celebrate holidays such as Thanksgiving and July 4, in the same way you celebrate the birthday of the Prophet." Tsarnaev angrily disagreed and eventually left. Although the brothers attended mosques intermittently, they did not belong to one. According to the space in Cambridge, "in their visits [the brothers] never exhibited any violent sentiments or behavior. Otherwise they would have been immediately reported to the FBI."
But friends of Tamerlan's from his boxing gym told Buzzfeed that the bombing has convinced them to rethink the 2011 murder of three men, including Brandon Mess, once described as Tamerlan's "best friend." According to a source, "Those three guys all had their throats cut and they had marijuana dumped all over their bodies. It's really gruesome how they were killed." But Tamerlan did not attend the funeral, and now they wonder if he might have been involved in the unsolved crime: "A few of my friends," one man said, "without even speaking about it beforehand have all been thinking this."
Authorities are hoping to question Tamerlan's wife, Katherine Russell Tsarnaev, about the bombings, and are working with her lawyer to gather more information about his behavior following the attack. On the day he died, Tamerlan "was home" when his wife left for work, and she only found out he was a suspect when she saw him on television, according to the lawyer. "He said she had been working 70 to 80 hours, seven days a week as a home health care aide. While she was at work, her husband cared for their toddler daughter," the AP reports.

In Tamerlan's final moments alive, during a shootout with police, he reportedly called his mother, who has been credited in reports with his turn toward Islam. "The police, they have started shooting at us," he told her amid the battle, which ended when his younger brother barreled down police in an SUV, driving over Tamerlan's body on his way. "Mama, I love you," he said.