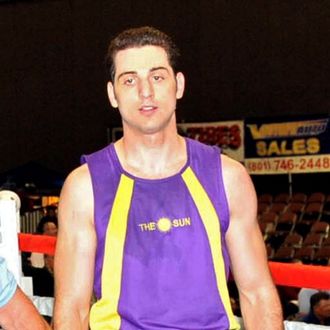 As investigators attempt to fill in the massive space between Tamerlan Tsarnaev, loving son and championship boxer, and Tamerlan Tsarnaev, the dead architect of the Boston Marathon bombing, they're looking to Russia. According to the newspaper Novaya Gazeta, Tsarnaev may have been linked to William Plotnikov, a Canadian "boxer-turned-jihadist" (sounds familiar) who died at the hands of Russian forces in the republic of Dagestan last year, while Tsarnaev was visiting.
CNN reports: "Plotnikov's body was prepared for burial by a local imam on July 14. Tsarnaev flew out of Dagestan two days later, arriving in New York on July 17. Investigators are looking into the possibility he left because of Plotnikov's death, the source said."
Canada's National Post has more:
Russian security operatives found Tsarnaev had been linked to William Plotnikov, an ethnic Russian citizen of Canada, whom they had interrogated in 2010 after he arrived in Dagestan, ostensibly to "study Islam". During Plotnikov's questioning, he gave a list of people in Europe and the U.S. with roots in Russia's North Caucasus, with whom he had communicated via online social networking sites. Among those whose names Plotnikov volunteered was Tamerlan Tsarnaev.
Plotnikov's father described to CBC a son that was once a successful boxer and then suddenly turned to radical Islam, which also sounds very familiar. "He had lots of friends and girlfriends. Suddenly finished. No friends, no father, no mother," he said. "Only room and pray. That's it. What happened? Who can change his mind?"
Tsarnaev may have also known, or chatted online, with Makhmud Mansur Nidal, an 18-year-old militant who was reportedly "under surveillance for six months as a suspected recruiter for Islamist insurgents fighting Moscow's rule in the region." Nidal was also killed in Russia, in May 2012 during Tamerlan's six-month visit, in Dagestan's capital Makhachkala, where Tsarnaev's parents live.
"It seems that Tamerlan Tsarnaev came to Dagestan with the aim of joining the insurgents," a Russian security source told Novaya Gazeta. "After Nidal and Plotnikov were destroyed and he lost his contacts, Tsarnaev got frightened and fled." Friends or not, he eventually met the same fate.