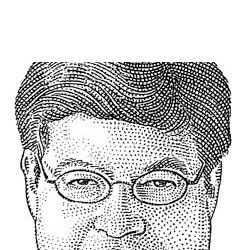 James Taranto.
Photo: @jamestaranto
There are enough legitimate ways to argue against the substance of last week's Gabby Giffords New York Times op-ed on the defeat of gun-control legislation without dragging the former congresswoman's mental capacity into the discussion. But The Wall Street Journal's James Taranto, one of the most tact-challenged people in journalism, went there anyway in a radio interview on Friday, as Media Matters noticed:
TARANTO: One fascinating thing about this is this piece was published no later than 9:03 PM on Wednesday evening, because that's when it first appears on the New York Times' Twitter feed. The last Senate vote on amendments to the gun bill was a bit after 6 [PM]. Giffords appeared at the White House at 5:35 [PM] when we saw that enraged rant by the president. The Manchin-Toomey [background check] provision was the first vote. That was at 4:04 PM. So if you read this piece it's presented as a cry from the heart, as Giffords' personal reaction as somebody who's been wounded by gun violence to the betrayal of these Senators. So we are supposed to believe that somehow in less than five hours a woman who has severe impairments of her motor and speech functions was able to produce 900 publishable words and put in an appearance in the White House in the course of it. So I think that's a little bit odd. 
It wasn't clear from the interview whether Taranto was trying to suggest that someone else wrote the piece for Giffords or that Giffords started the piece before the vote actually took place, but today on Twitter, Taranto claimed the latter:
What remains a mystery is why Taranto felt this was an important point to make. So what if Giffords started the piece before the vote? It would be neither "fascinating" nor "odd." It was well known that the legislation was doomed before the vote, and prewriting pieces in anticipation of a predictable event is a common practice. For example, we could start writing our next "James Taranto Being an Unbelievably Classless Clown" story at any time.