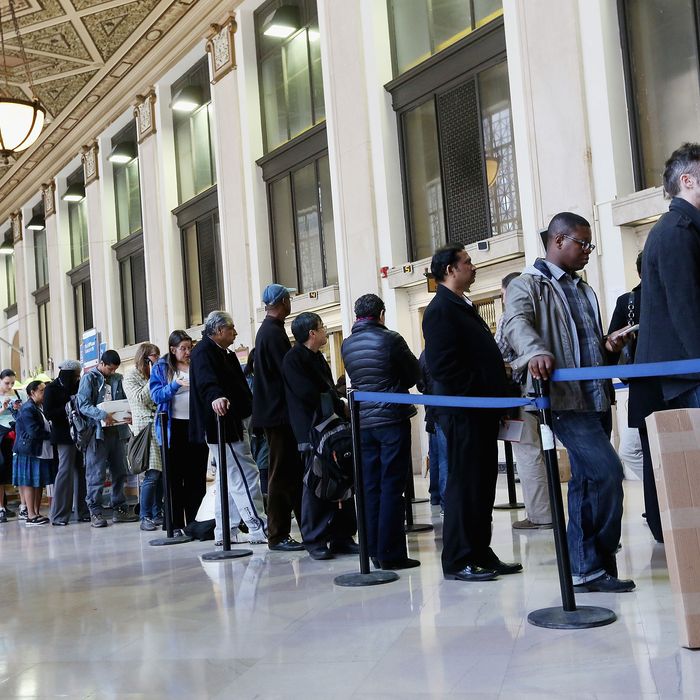 NEW YORK, NY - APRIL 15: People wait in line inside the James A. Farley post office building April 15, 2013 in the Manhattan borough of New York City. With the U.S. tax deadline of midnight April 15 rapidly approaching, last-minute filers are filling up the nation's post offices. (Photo by Mario Tama/Getty Images)
Photo: Mario Tama/2013 Getty Images
If you've waited until the last minute possible to file your tax returns, you're not alone. All over the country, despite promises to get on the ball early this year, hordes of people will line up at post offices tonight or frantically attempt to e-file their returns at home by 11:59 p.m. in order to avoid penalties.
But surely, people who get paid to think about taxes all the time must not have these problems, right? Wrong. In fact, some of our nation's leading economists and tax experts are just as delayed in their tax prep as the rest of us.
Austan Goolsbee, a professor of economics at the University of Chicago's Booth School of Business and a former chairman of the Council of Economic Advisers, tweeted today that he was trying to pin down his taxes at the last minute:
That tweet got a reply from Goolsbee's colleague at Chicago, the noted economist Richard Thaler:

When we asked Goolsbee why he'd waited so long to file his personal returns, he told us, "Sadly, it almost always comes down to the end for me. Long ago I decided that as a matter of principle, I should be able to do my own taxes. What a terrible idea! So every year, I am down there with the TurboTax, going to the post office line, usually at that last one open late. Tonight I teach, though, so had to be by 1:30."
Thaler, on the other hand, told us that he didn't even attempt finishing his taxes by April 15. Every year, he takes an extension to buy himself until October 15.
"April is always a busy time of year for me," he said in an e-mail. "I teach in the spring, and classes start around April 1. I have an accountant do my taxes, but there is some work I still have to do to file the final return. So I just give him enough information to file for the extension and figure out if I need to write a check and then do it later when things are calmer. I can't understand why anyone thinks that the deadline is April 15."
Tax expert Sam Brunson, who teaches tax law at Loyola University Chicago School of Law, told us that his method is a bit more organized, though he too had been rushed in recent weeks.
"This year I used the H&R Block At Home software to prepare my taxes," he said. "A few years ago, my wife set up some file folders. Now, I set up a taxes folder every year and drop all of the relevant documents (W-2s, 1099s, receipts for charitable donations, and stuff like that) in the right folder. I usually try to get them done sometime early March, but this year we were in the middle of selling our apartment and finding a new place, so I didn't get my federal taxes e-filed until the beginning of April. Then, last Friday, I spent half an hour mailing my Illinois return."

Hopefully, the fact that even some of our leading money wonks have trouble finishing their taxes with time to spare will cheer you up as you're hunched over TurboTax tonight, frantically looking for your last 1099 form before the deadline. Procrastination! It's not just for dummies.