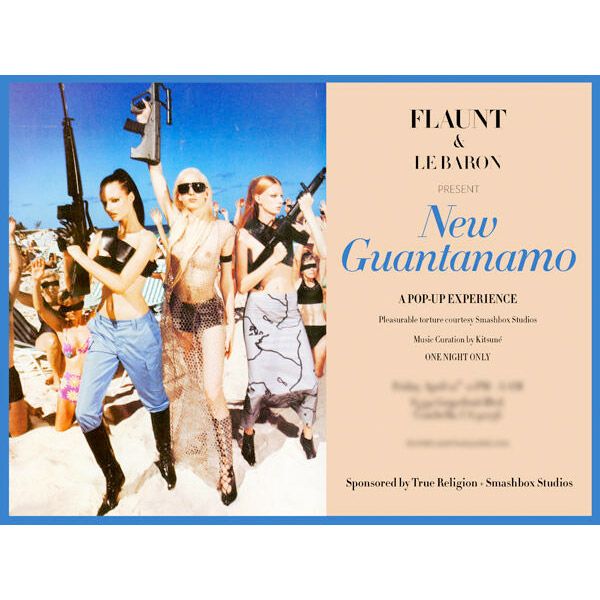 Start your outrage engines: The annual desert hell party known as Coachella begins on Friday and, in an ill-advised attempt at topical hipness, features a corporate get-together called New Guantanamo, advertised as a "pop-up experience" complete with "pleasurable torture."
According to Refinery29, the intensely tone-deaf event is presented by Flaunt magazine and Le Baron, with sponsors True Religion and Smashbox Studios (of The Hills semi-fame), so you know it's exclusive.
"The watering hole, the first building ever built in Coachella, CA, will feature playful torture by Smashbox Studios with beats poured by French music and fashion label Kitsuné. This one will go until dawn," says the invite, which features a proto–Spring Breakers photo by David LaChapelle.
The race for everyone involved to distance themselves from this debacle of human sensibility starts now.
Update, 6:10 p.m.: That was fast. Dee deLara, VP of marketing and creative at Smashbox, tells Daily Intelligencer that Flaunt is "changing the theme of the event" and will issue a statement shortly. "We had agreed to do the photobooth before we even knew what the event was," she said. "We have a great partnership with them. We didn't realize it would be in bad taste."
Update, 10:20 p.m.: Flaunt's statement:
In its 15-year history, Flaunt has not shied away from controversy or provocation. We routinely cover topics of social and political contention. At our event, we intend to create an atmosphere of fun, and the spirit and theme were never intended to cause offense or harm. Guantanamo has been controversial from its inception, and that an unresolved human rights issue is again fetching headlines is, in our opinion, true to our aims as a publication. We value and respect the public's concern and are taking action.
Smashbox, though, is out:
Smashbox Studios will no longer act as a sponsor to Flaunt's Coachella after party. We were not informed of the inappropriate theme prior to the release of the invitation today. We feel strongly that even with a new event title, the feel good atmosphere of the party has been tainted.
Update, 4/9/13, 2:10 p.m.: True Religion wants nothing to do with it either: "True Religion Brand Jeans was not consulted about the theme of Flaunt Magazine's April 12th Coachella after party," the company said in a statement to Daily Intelligencer. "When we learned of the theme on April 8th, we notified Flaunt Magazine that we will not participate in this event."