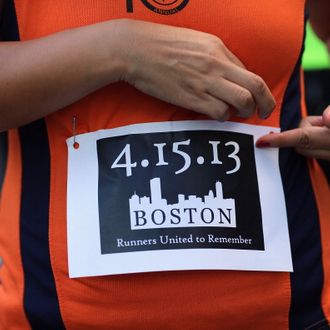 With the announcement that the third victim in the Boston Marathon bombing was a Boston University graduate student from China, all three people who died in the attack have now been identified. But authorities at Boston University and the Chinese consulate in New York are not making the student's name public. A previous report that tried to identify the dead student apparently had its facts mixed up, and there was a similar situation with the second victim to be identified, 29-year-old Krystle Marie Campbell. Earlier on Tuesday it was revealed that 8-year-old Martin Richard was among the casualties.
The BU student who died was at the race with two friends, watching near the finish line, BU reported on Tuesday. One of her companions was injured and is in stable condition. According to BuzzFeed, the Huffington Post first reported that the dead student was Zhou Danling. But Chinese media including the official Xinhua and the Hong Kong-based South China Morning Post were reporting Zhou was only injured.
Earlier, the consulate had announced that another student, named Lv Lingzi (also written as Lingzi Lu), was missing, according to the Boston Globe. The family of the dead student has asked that she not be identified, according to the paper, the university, and the consulate.
Confusion over the identity of Campbell, the second victim, gave her father false hope, NBC News reports. Hospital officials first told him she had survived and was in surgery, "But when he was taken in to see her, the patient wasn't Krystle." Finally, a police detective helped her father figure out Campbell had died. Her grandmother told the Boston Globe that Campbell, a restaurant manager who moved in with her grandmother to care for her, went to the race every year. "She didn't miss a Marathon, watching it at the finish line."