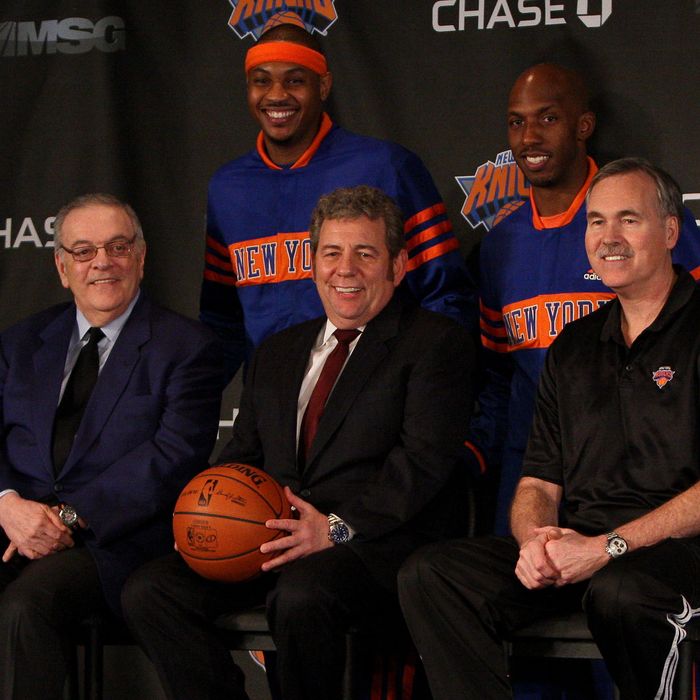 Photo: Debby Wong/ZumaPress/Corbis
Notoriously prickly New York Knicks owner James "Jim" Dolan — that's Mr. Dolan to you, probably — is getting beat up in the tabloids this week for allegedly firing a security guard at Madison Square Garden (and then re-hiring her the next morning) for failing to recognize him at a security checkpoint. "Do you know who I am?" he supposedly asked, because he is a rich white man. We should probably all know, just in case.
Now, according to the New York Post, Mr. Dolan's picture has been handed out to staff (hopefully with and without facial hair) to avoid future incidents. As the CEO of Cablevision and executive chairman of the Madison Square Garden Company, Dolan may also exercise his power over everyone from the Rockettes to the lowly workers at Fuse and Radio City Music Hall, and maybe you, if he provides your cable or high-speed Internet. Is Jim Dolan your boss? He might be! You should probably figure that out.
And for a sense of how he looks in action, here is Mr. Dolan playing in his blues-rock band JD (for James Dolan) & the Straight Shot: