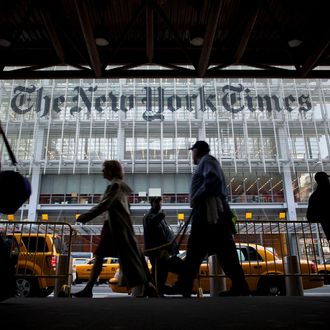 Photo: Michael Nagle/Bloomberg via Getty Images
On the same day the New York Times Company reported yet another quarter in which advertising, both print and digital, was down, along with total revenue, it also announced its long-touted plan to turn things around. Yes, the top quality journalism we've come to expect and rely on is part of it — subscriptions and circulation revenue continue to outpace money made from advertising, an industry anomaly — but in addition to more a la carte digital subscription packages and expanded video production, there's also that dreaded corporate-speak: "brand extensions."
As in, "The planned areas of focus are games and e-commerce. An expansion of the company's conference business is also planned," according to the "New Strategy for Growth" announcement. Details are scarce so far — "initiatives will begin to roll out in the fourth quarter of 2013 into 2014" — but we can extrapolate.
Games! Maybe not the first thing you think of when you think of the New York Times, but already a lucrative business. Premium crossword subscriptions are $20 annually for subscribers and $40 for word-nuts who don't want the paper. An Awl column on the economics of puzzles points to a 2010 interview with crossword boss Will Shortz, who put the number of crossword-only subscribers at 50,000, totaling $2 million a year.
Then there's the crossword merchandise, like mugs, salt shakers, coffee canisters, and soap dishes. Presumably that's not all the e-commerce planned, but people do love their games, and mobile devices like iPads provide fertile ground. May we also suggest Movie Trivia With Manohla Dargis (for iPhone and Android) and an Iron Chef challenge with Mark Bittman?
As for conferences, they're already happening. Yesterday saw the announcement of "Thomas L. Friedman's the Next New World," where "Attendees can expect invaluable insights into strategies for success in today's new world order," for a discounted attendance fee of $995. If you're into that sort of thing. And December's DealBook conference, where Wall Street heavyweights joined the journalists who cover them, was hailed as a great success. Public editor Margaret Sullivan did say, "some aspects of this particular solution can't help but make me a little queasy," but we all just might have to get used to it.