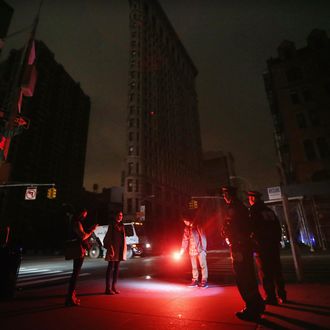 Photo: Mario Tama/Getty Images2012 Getty Images
The New York Times' story about Con Edison giving its executives $600,000 in bonuses for their "exemplary" performance in 2012 makes it clear that not everybody shares the company's view. The second paragraph quotes Gov. Andrew Cuomo's reference to "the failure of utility performance." But this is one of the few instances where the Grey Lady's clear and sober tone falls short. This story calls for The New York Post.
Nobody can convey outrage at "fat cats" quite like the Post. And these cats are some of the fattest. "Kevin M. Burke, the company's chairman and chief executive, got an additional $315,000, taking his total pay for the year to $7.4 million," the Times reports. It's almost like the Times needs the Post to be its anger translator.
Remember how offended the paper was by the fact that Peter Madoff went to a bat mitzvah? Why, a search for the word "outrage" returns 585 results on the Post's website, which actually seems low for the publication, but is still quite a lot. And this story calls for one of those usages. Maybe we could get Andrea Peyser on the case?
As the Times understatedly puts it, "the bonuses illustrate how wide the gap was between the public perception of how Con Ed performed last year and the positive self-image flowing through the company's headquarters near Union Square in Manhattan." It goes on to cite myriad public officials' consternation at the bonuses, and to remind us things did not go smoothly:
About 1.1 million of Con Edison's customers lost power because of Hurricane Sandy, including more than 230,000 in Manhattan whose electricity went off after a substation near the East River flooded. It took the company four days to restore most of the power lost in the city but more than 10 days in parts of its suburban territory in Westchester, Rockland and Orange Counties.
But darn it, there's just no fury there. Hard facts can only get a body so riled up. The story is still not up on the Post's website, but presumably it will be soon. And when it runs, here's hoping it's packed full of all the snarky idioms the Times is too mature to say.