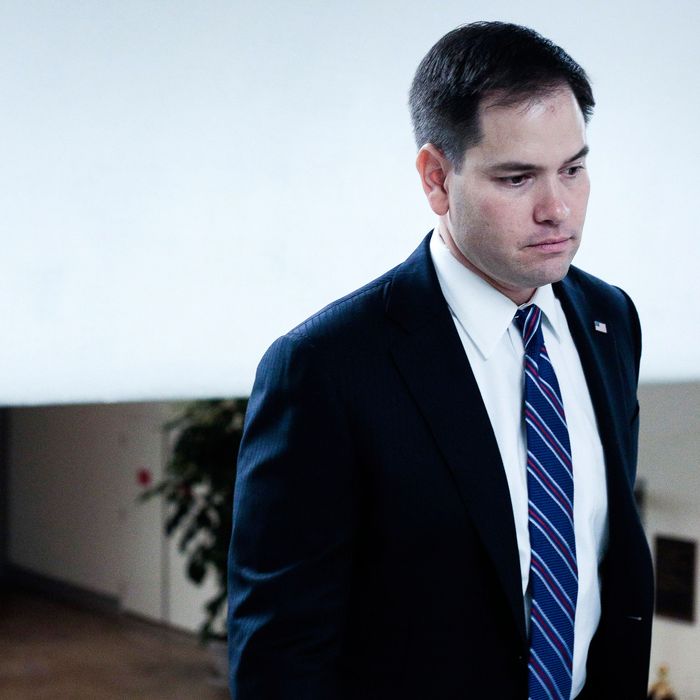 Photo: T.J. Kirkpatrick/Getty Images
Paul Ryan is getting heavily involved in selling immigration reform, touring with Democrat Luis Gutierrez to promote the bill:
On Monday morning, a Mariachi band guided the unlikely political pair into the Erie Neighborhood House, where immigration rights groups, clergy and others convened to rally behind substantial changes in the law that would give more immigrants a path to citizenship.
Of course, this might all fall apart if it occurs to Ryan that he could try having mariachi bands follow him everywhere he goes without supporting immigration reform. Meanwhile, Marco Rubio is starring in new ads, funded by Mark Zuckerberg and other Silicon Valley types, urging conservatives to get onboard:

Rubio is also relentlessly selling his plan to conservatives through talk radio. For the most part, they're not buying it:
"Here he is, the gang leader of what they call the Gang of Ocho," says Lars Larson, an Oregon-based commentator, as Rubio takes a seat at his booth. Rubio grimaces slightly. "Oh, that's a Senate term," he says reassuringly. "Well, you've got this thousand-plus-page bill," Larson continues. "No, it's 840 pages, but anyway," Rubio says quickly. Larson shrugs and keeps banging away. Their rapport is friendly, but Larson isn't looking to be swayed.
There's something ritualistic about the conservative objections Rubio is getting. It's not a real revolt. They're going through the motions to prove to their audience that they have kept their purity, but conservative talk-show hosts and other activist types are not, for the most part, actually doing what it would take to kill the bill.