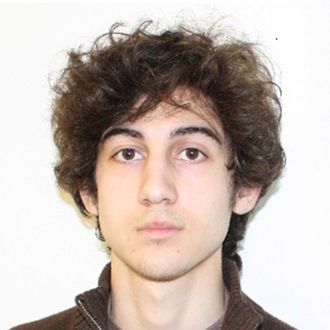 The logical assumption, when Boston bombing suspects Dzhokhar and Tamerlan Tsarnaev told their carjacking victim they were heading to Manhattan, was more terror. But maybe not: "There is some information that they may have been intent to come to New York but not to continue what they were doing," said NYPD Commisioner Ray Kelly today, citing the ongoing questioning of Dzhokhar. "The information that we received is something about a party — having a party … Something to the effect of coming to party in New York." In some ways, that's more terrifying.
We already know that Dzhokhar did some partying after the Marathon attack at the U Mass dorms and "was just relaxed," telling one student, "Yeah, tragedies happen like this all the time and it's sad." According to an update from the FBI today, he remains in fair condition at a Boston hospital, where he continues to be questioned by authorities.
Also speaking to the FBI is the mother of the Tsarnaev brothers, who denied to ABC News that her son Tamerlan was radicalized by a mysterious red-bearded man named Misha. "Nonsense. He was just a friend," Zubeidat Tsarnaev said, disputing claims from an uncle yesterday about Tamerlan's radicalization. Then again, the mother also maintains that her sons are innocent, so she's maybe not the most reliable source.