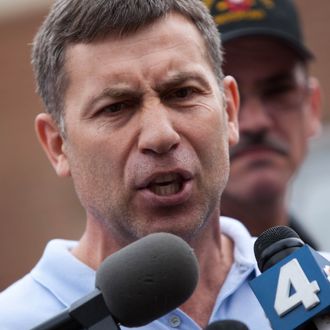 Pissed-off uncle Ruslan.
Photo: Allison Shelley/Getty Images
As the media searches for clues to how and why two seemingly nice brothers turned into terrorists, it has sought out answers from family members far and wide: Their parents back in Russia, two uncles in Maryland, an aunt in Canada, and a sister in New Jersey. Some of them are shocked, some are outraged, and most of them are accusing the American government of a conspiracy. We've put together this guide to the extended Tsarnaev family to help you keep track of it all. 
Anzor Tsarnaev, father
From Russia, Tsarnaev told ABC News that he spoke to his sons earlier in the week after becoming concerned that they had been hurt in the Boston blasts. They told him, "Everything is good, Daddy. Everything is very good." Tsarnaev maintained that his sons were innocent, and warned that "all hell would break loose" if they were killed. 
Later, in a different interview, Tsarnaev insisted that there was some kind of conspiracy against his sons. "Somebody clearly framed them," he told Reuters, according to an English translation. "I don't know who exactly framed them, but they did. They framed them and then they were so cowardly that they shot the boy dead. There are policemen like that." Seemingly unaware of America's lax gun laws, Tsarnaev expressed disbelief that his sons could be armed, as the police claim. "Where can he get weapons for God's sake?" he asked. "They are picking them up at rubbish dumps, these weapons, or what?"
Zubeidat Tsarnaeva, mother
Speaking from Dagestan in Russia, Zubeidat Tsarnaeva told RT that she is "really sure, like 100 percent sure, that this is a set up. My two sons are really innocent." Tsarnaeva seemed to implicate the FBI in a conspiracy against her son. "He was counseled by FBI like for three, five years," she said in somewhat confusing remarks. "They knew what my son was doing. They knew what actions and what disguise on internet he was going. They used to come home, they used to come and talk to me, they used to tell me that they were telling me that he's a really serious leader and they are afraid of him. They told me that whatever … information he's getting, they are counseling him."
Ruslan Tsarni, pissed-off uncle
Tsarni doesn't have much to do with the Tsarnaev family owing to some kind of unspecified falling-out, he told the assembled media in an emotional interview in front of his home in Maryland. His nephews are "losers" who were "not … able to settle themselves, and thereby just hating everyone who did." He angrily blamed them for putting a "shame on the entire ethnicity" and called on Dzhokhar to turn himself in "and ask for forgiveness from the victims, from the injured." He was totally pissed about the whole thing. 
Alvi Tsarni, exasperated uncle
A mile down the road from Ruslan, in Maryland, Alvi had much less to say about the situation, but was generally in a state of disbelief. "I don't believe any of my nephews involved in this horrible incident," he told reporters in his driveway. "It's crazy, it's not possible, I can't believe it." Alvi told CBS News that Tamerlan called him yesterday and "said 'forgive me.'"
Later, Alvi was stopped by reporters in the middle of the street and, despite his obvious difficulty understanding English, begrudgingly sat through another round of questions from reporters.  
Maret Tsarnaeva, aunt
Tsarnaeva, who is studying to be a lawyer, was in a complete state of denial when she spoke to reporters at her home in Toronto today, telling reporters that she didn't think Tamerlan was dead, didn't think there was any evidence against her nephews, and that her nephews were being set up by the government. "If somebody wants to convince me, show me evidence," she said. "Evidence! Evidence!"  Shown the photos released by the FBI, Tsarnaeva replied, "He is standing. That's what I see."
Alina Tsarnaeva, sister
FBI agents have taken a computer from the home of Alina Tsarnaeva, a sister of Dzhokhar and Tamerlan who lives in West New York, New Jersey. Talking to Star-Ledger reporters through a door earlier today, Tsarnaeva said both her brothers were smart; she doesn't know "what got into them, I have no idea what got into them."
"They were great people," she said. "I never would have expected it." Her husband told reporters that he never met the brothers Tsarnaev because "I'm not Muslim, and they didn't accept me."
Katherine Russell, Tamerlan Tsarnaev's wife
The 24-year-old offered a "no comment" when the Daily Mail caught up with her at her family's Rhode Island home, and that's all we've heard from her so far. Neighbors tell the Daily Mail that Russell converted to Islam during college and started wearing different clothes. She and Tamerlan have a 3-year-old daughter.