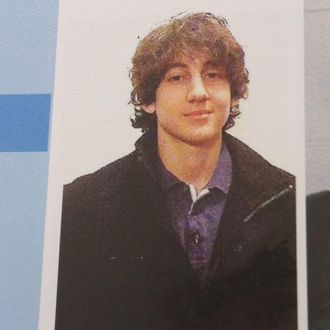 It seems impossible for the Boston bombing case to get much more shocking, but on Sunday night there was another somewhat surprising turn of events. Though officials spent the day describing the seriousness of 19-year-old Dzhokhar Tsarnaev's wounds and Boston Mayor Thomas Menino said, "We don't know if we'll ever be able to question the individual," just a few hours later NBC News is reporting that questioning has begun. 
Tsarnaev suffered several gunshot wounds, including one to the throat that might have been self-inflicted. Nevertheless, just 48 hours after his capture, officials say he's responding to a special team of federal investigators, mostly in writing. Law enforcement sources tell ABC News that investigators are asking if there are other unexploded bombs or accomplices. Tsarnaev is in serious but stable condition at Boston's Israel Deaconess Medical Center.
Authorities have decided to question Tsarnaev, a naturalized American citizen, without reading him his Miranda rights, which isn't sitting well with some civil rights advocates. However, a group of Republicans said over the weekend that Tsarnaev shouldn't even have those rights. In a joint statement on Saturday, Senators John McCain, Lindsey Graham, Kelly Ayotte, and Rep. Peter King demanded that he be treated as an "enemy combatant." "The accused perpetrators of these acts were not common criminals attempting to profit from a criminal enterprise, but terrorists trying to injure, maim, and kill innocent Americans," they wrote, adding that Tsarnaev "clearly is a good candidate for enemy combatant status. We do not want this suspect to remain silent."
On Sunday, Graham elaborated in an interview with the New York Times, saying the main purpose of such a move would be to interrogate the 19-year-old without a lawyer present. Graham said that he should be held as an enemy combatant for about 30 days, or until it's determined that Tsarnaev has no ties to Al Qaeda.
It appears that using the public-safety exception to the Miranda rule is as far as the Obama administration is willing to go. Democratic Senator Carl Levin objected to holding Tsarnaev as an enemy combatant, pointing out that there's no evidence that he or his brother were "part of any organized group, let alone Al Qaeda, the Taliban or one of their affiliates." "In the absence of such evidence, I know of no legal basis for his detention as an enemy combatant," Levin said. "To hold the suspect as an enemy combatant under these circumstances would be contrary to our laws and may even jeopardize our efforts to prosecute him for his crimes."