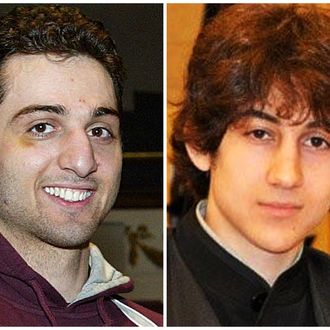 Hours after he was charged in his hospital room, authorities revealed that Dzhokhar Tsarnaev has shared information that should put to rest fears that the Boston bombing was part of a larger terror plot. Two U.S. officials tell the Associated Press that Tsarnaev indicated during questioning that he and his brother came up with the plan and acted on their own, and were motivated by religious extremism. CNN reports that while watching online videos helped radicalize their thinking, Tsarnaev says they had no contact with international terrorist groups, and looked up bomb-making instructions online. And, confirming the narrative emerging about the two brothers, the 19-year-old reportedly said that his older brother Tamerlan was the driving force behind their plans.
According to CNN, investigators are questioning Tsarnaev every few hours in the presence of doctors. He's said to be cooperative and is responding to questions by writing and shaking or nodding his head. According to a transcript of Monday's hospital room court proceeding, he managed to answered "no" at one point when asked if he could afford a lawyer. Federal Public Defender Miriam Conrad was assigned to represent him.
While Tsarnaev was questioned before hearing his Miranda rights, they were read at some point before Monday's proceeding, and U.S. Magistrate Judge Marianne Bowler went over them again. "I find that the defendant is alert, mentally competent and lucid," Bowler said in a statement. "He is aware of the nature of the proceedings."
Despite Tsarnaev's denial, officials stressed that they're still working to verify his claim that no one else was involved in the bombings. A probable cause hearing has been set for May 30.