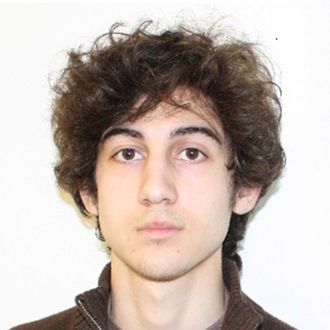 On today's Fox News Sunday, Boston Police Commissioner Ed Davis confirmed that hospitalized Boston Marathon bombing suspect Dzhokhar Tsarnaev is "progressing," though he is "in no condition to be interrogated at this time." Later, on ABC's This Week, Boston Mayor Thomas Menino called Tsarnaev's condition "very serious," adding, "We don't know if we'll ever be able to question the individual." (Tsarnaev is currently unable to speak because of a throat wound.) When Tsarnaev has recovered enough to talk — or communicate in some other way — he'll be questioned by members of a special high-level detainee interrogation team. As has been widely reported, Tsarnaev — a naturalized American citizen — will not be read his Miranda rights (which include the right to remain silent, the right to an attorney, and the warning that anything he says could be used to aid prosecutors) because the government has invoked the public safety exception, which allows officials to engage in "unwarned interrogation" of a suspect who they believe might have knowledge of another imminent threat.
The decision to not immediately Mirandize Tsarnaev has been met with skepticism by civil rights advocates. Earlier this weekend, ACLU Executive Director Anthony Romero cautioned that the exemption "should be read narrowly" and warned that it "is not an open-ended exception to the Miranda rule." He allowed "that it would be acceptable to withhold Miranda before asking whether there were any more bombs hidden in Boston, but that once the F.B.I. went into broader questioning, it must not 'cut corners.'" 
While Davis has said that authorities believe that Dzhokhar and his brother, Tamerlan, were planning to carry out additional attacks, officials don't seem to think that the two were part of larger plot. During his This Week interview, Menino said, "All of the information I have is they acted alone, these two individuals, the brothers." On NBC's Face the Nation, Massachusetts Governor Deval Patrick said, "All of law enforcement feels it is over."  Massachusetts Public Defender Miriam Conrad, whose office is tasked with representing Tsarnaev, stated that he should be given a lawyer as soon as possible because there are "serious issues regarding possible interrogation." NBC reports that federal prosecutors are hoping to file terrorism charges against him by the end of the day. He will also likely face state murder charges.