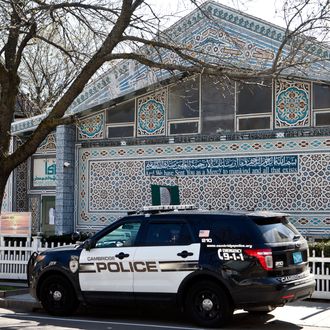 The Islamic Society of Boston Mosque, which was attended by the Tsarnaevs, and possibly Misha.
Photo: Kayana Szymczak/2013 Getty Images
"Misha," the friend said to be key to Tamerlan Tsarnaev's radicalization, has finally been tracked down, but he doesn't quite fit the ominous image of the bald, red-bearded 30-year-old convert to Islam who claimed to be an exorcist who could talk to demons. Mikhail Allakhverdov, the man who met with Christian Caryl of The New York Review of Books, lives with his elderly parents in a Rhode Island apartment, has a "thin, reddish-blond beard," and showed up to the interview wearing "a green and white short-sleeve football jersey and pajama pants." While he did covert to Islam and was friends with Tsarnaev, he says he hadn't spoken to him since he lived in Boston three years ago and had no part in the bombings. "I wasn't his teacher. If I had been his teacher, I would have made sure he never did anything like this," Allakhverdov said.
A U.S. official said on Saturday that the FBI has located Tsarnaev's friend Misha, but found no evidence connecting him with the bombing. Allakhverdov told The New York Review of Books:
I've been cooperating entirely with the FBI. I gave them my computer and my phone and everything I wanted to show I haven't done anything. And they said they are about to return them to me. And the agents who talked told me they are about to close my case.
Unnamed law enforcement sources have provided many facts on the Boston bombing that were later called into question, but Misha's influence on Tsarnaev was one of the more well-attributed aspects of the story. Last week, Tamerlan's uncle, Ruslan Tsarni (of "they're losers" fame), and his sister's ex-husband, Elmirza Khozhugov, told the Associated Press that Tamerlan's friendship with Misha was a source of tension in the family. "I heard about nobody else but this convert," Tsarni said. "The seed for changing his views was planted right there in Cambridge." Khozhugov recalled a time when Tamerlan's parents clashed over Misha. Per the AP:
Once, Khozhugov said, Misha came to the family home outside Boston and sat in the kitchen, chatting with Tamerlan for hours.

"Misha was telling him what is Islam, what is good in Islam, what is bad in Islam," said Khozhugov, who said he was present for the conversation. "This is the best religion and that's it. Mohammed said this and Mohammed said that."

The conversation continued until Tamerlan's father, Anzor, came home from work.

"It was late, like midnight," Khozhugov said. "His father comes in and says, 'Why is Misha here so late and still in our house?' He asked it politely. Tamerlan was so much into the conversation he didn't listen."

Khozhugov said Tamerlan's mother, Zubeidat, told him not to worry.

"'Don't interrupt them,'" Khozhugov recalled the mother saying. "'They're talking about religion and good things. Misha is teaching him to be good and nice.'"
Tamerlan's ex-brother-in-law says he was present for the entire conversation, but Allakhverdov says he never met the family members who identified him in the media, and a source close to the family tells the Review of Books that Misha didn't visit Tamerlan at home. Either someone isn't telling the truth, or Tamerlan was radicalized by another red-bearded Muslim friend named Misha.