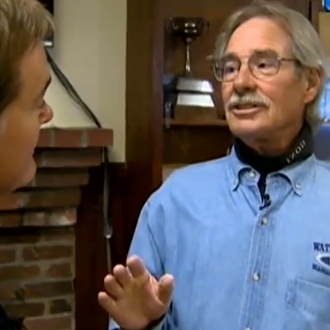 The man who first alerted Boston police that the marathon bombing fugitive they sought was hiding in a trailered boat in his backyard says he doesn't want the donations the Internet has raised for him to replace it. They've topped $10,000 by now. "I say it did its job," David Henneberry said of the Slip Away II (actual name), in which police found Dzhokhar Tsarnaev hiding on Friday evening, shortly after lifting a stay-at-home order that had locked down Boston for the day. "People lost lives and lost limbs.  I'd rather that (the money) go to the One Fund Boston," Henneberry told WCVB, which scored the first post-manhunt interview with the yachtsman.
Henneberry also cleared up the account police had initially given on Friday, that he had seen blood on the side of the vessel and gone to investigate. He did see blood, he said, but only after he went to check out the boat. He investigated in the first place because he had noticed some pads he had placed between the shrink-wrap cover and the boat itself had fallen off. "They were bugging me all day," he said. When the lockdown was lifted, he went to replace them, and that's when he saw the blood — and Tsarnaev.
The Slip Away II got thoroughly shot up in the final confrontation between Tsarnaev and police. Given Henneberry's attention to detail about the pads, and what his stepson Robert Duffy had told reporters before Tuesday's interview, it's awfully big of him to be so philosophical about its demise. "He's real anal about it," Duffy said Friday of Henneberry and his boat.