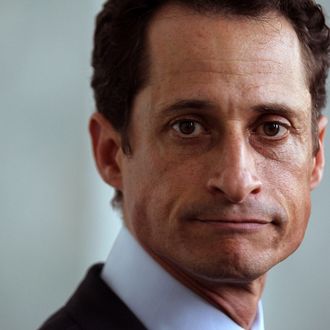 Photo: Alex Wong/2011 Getty Images
Anthony Weiner might not win the mayor's race, or even the democratic candidacy if he decides to run as he's been openly considering. But according to a new poll from NBC New York and Marist College, he'd enter the Democratic field at a strong position, second to Christine Quinn, and would make it harder for any candidate to win with the 40 percent required to avoid a run-off vote. Some 15 percent of registered Democrats among the 1,127 respondents said they would vote for Weiner if the race was held immediately. That still puts him well behind Quinn, who picked up 26 percent of the hypothetical vote, but ahead of every other candidate in the field. Seems like a no-brainer to enter the race, but not everybody thinks so.
Via the NBC New York - Marist poll:

FiveThirtyEight blogger Nate Silver tweeted: "100% name recognition and just 15% ballot support? That's an ugly poll for Weiner, not an encouraging one." And he doesn't siphon a huge amount from Quinn: Just four percentage points, as Colin Campbell points out in Politicker. "Without Mr. Weiner in contention, Ms. Quinn's support rises to 30 percent, a 7-point tumble from her last standing in February."
Lee Miringoff, the director of the Marist Institute for Public Opinion, told NBC New York, "He's obviously polarizing, with a high negative rating. But when he gets into a field that's not well formed, he does fall into second place and becomes a player in this."
We're guessing this result comes as no surprise to Weiner, who last month paid David Binder Research $54,000 for political polling, for some reason. In Daily Intelligencer's own 100-person poll of strangers in Union Square last week, 27 percent said he deserved a second chance and they would consider voting for him.