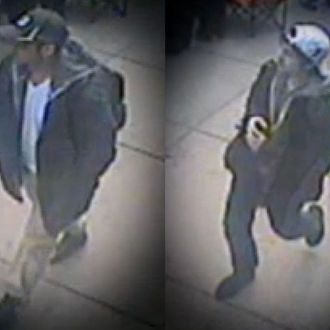 Dzhokhar Tsarnaev is alive and in custody, which means we'll eventually get to hear his explanation for what motivated him and his late brother, 26-year-old Tamerlan, to blow up the Boston Marathon on Monday — as well as what they were thinking when they emerged to fatally shoot an MIT police officer and lead authorities to an exchange of explosives and gunfire on streets of Watertown. In the meantime, however, we can only speculate about the brothers and their respective roles in the crimes — and speculate we will.
19-year-old Dzhokhar, who became an American citizen in 2012, appears to have been the more well-adjusted of the two. He has been almost universally described as a friendly, intelligent stoner who excelled at high school wrestling (and may have transferred colleges because he "was interested in following parties," as friend Yushun Tsou told Talking Points Memo.) He mostly tweeted song lyrics and jokes about food, TV, and his friends. High school teacher Larry Aaronson, who taught Dzhokhar at Cambridge Rindge and Latin School, told the Boston Globe that, "If someone were to ask me what this kid is like, I would say that he had a heart of gold." 
High school classmate Sierra Schwartz told the Times that he was "accepted and very well liked." Another high school buddy, Ashraful Rahman, called him "just a normal guy, very chillaxed, and very laid back." He also said that Dzhokhar "seemed very peaceful" the last time he saw him at their mutual mosque, the Islamic Society of Boston. A University of Massachusetts Dartmouth transcript obtained by the New York Times shows that Dzhokhar had been failing classes recently. However, a friend identified only as San explained, "He was a really smart kid, but having a little difficulty in college because going from high school to college is totally different." San added that he would be willing to testify on Dzhokhar's behalf. "I feel like all of his friends would do that," he said.
The emerging portrait of Tamerlan is much darker than that of his younger brother, leading many to believe that he was the ringleader. He spent three semesters at Bunker Hill Community College before dropping out in 2008. The brothers' father, Anzor Tsarnaev, told the Times that a 2009 domestic violence charge had prevented his older son, who had a green card, from gaining citizenship: "Because of his girlfriend, he hit her lightly, he was locked up for half an hour." Tamerlan later married Katherine Russell — a 24-year-old Rhode Island native and apparently a recent convert to Islam — and the two had a young daughter together. (It's not clear if Russell was the girlfriend who accused him of beating her.) Though Tamerlan once told a photojournalist, "I don't have a single American friend," the Globe reports that he did have at least one: "Gym owner [John] Allan said that Tamerlan had once introduced him to an American, Brendan Mess, whom Tamerlan described as his best friend." Two years ago, Mess and two others where killed in a "brutal" unsolved murder during which "their throats slit and their bodies covered with marijuana."
Meanwhile, neighbors and family members said that Tamerlan had become a more devout Muslim in recent years, and he appears to have dabbled in extremism online. The Times reports that, in 2011, the FBI questioned Tamerlan "at the request of a foreign government — now acknowledged by officials to be Russia — based on information that he was a follower of radical Islam and a strong believer, and that he had changed drastically since 2010 as he prepared to leave the United States for travel to the country's region to join unspecified underground groups." However, after doing some research and speaking to Tamerlan and some family members, the agency says it "didn't find anything on him that was derogatory." Tamerlan then traveled to Russia with his father in 2012. According to Anzor, the two stayed mostly in their former home — Makhachkala, Dagestan — though they also went to neighboring Chechnya to visit relatives. However, "law enforcement officials are now conducting a review of that trip to see if Mr. Tsarnaev might have met with extremists or received training from them while abroad," according to the Times. 
While there's no proof that the Boston Marathon plot had its origins in anything but the head of at least one of the Tsarnaev brothers, we do know that both of them eventually decided to go through with it — and that a wide variety of accounts certainly suggest that Tamerlan was more inclined toward violence than Dzhokhar. In a conversation with the Globe, a cousin, Zaur Tsarnaev, said "I used to warn Dzhokhar that Tamerlan was up to no good … He was not a nice man." The brothers' father, Anzor (who has said that he believes his sons were set up), said, "Dzhokhar listened to Tamerlan, of course." He added, "He also listened to us." However, neither of the Tsarnaev parents have lived in the United States for a while. Assuming he didn't know of their plans, it seems that he — like the rest of the world — will have to wait to learn who, exactly, each of his sons was listening to.