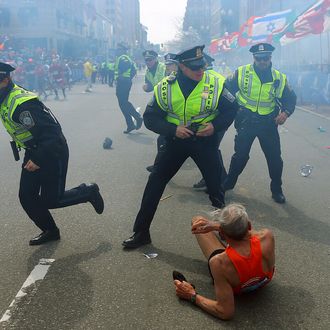 The morning after the bombing of the Boston Marathon, it's striking how little new information has emerged overnight about who was behind the attack. No one has claimed responsibility, although law-enforcement agencies "have a number of active leads and some good early progress in the forensics analysis," according to a CNN source. The finish-line attack that killed at least three people and injured more than a hundred is being treated as a "criminal investigation," the head of the Boston FBI said, as well as "a potential terrorist investigation."
Early reports about a Saudi national "person of interest," injured in the blast and seen running from the explosion, have so far not panned out. The man, a visiting student, was questioned and consented to a search of his home in the Boston suburb of Revere, but an official told CNN "he has not heard of anything being found connecting the person to the bombings."
"The situation remains fluid, and it remains too early to establish the cause and motivation," the FBI's Boston Division said, urging those with potential evidence to come forward. "No piece of information or detail is too small." Governor Deval Patrick, in a press conference this morning, clarified, "Two and only two explosive devices were found" yesterday. "There were no unexploded explosive devices found," he said. Patrick added that more than 150 people were injured in the blasts. FBI Special Agent Rick DesLauriers said there are "no know additional threats."
Despite the lack of new information, the available evidence is being analyzed. "Some law enforcement officials noted that the blasts came at the start of a week that has sometimes been seen as significant for radical American anti-government groups," the New York Times reports. "It was the April 15 deadline for filing taxes, and Patriots' Day in Massachusetts, the start of a week that has seen violence in the past. April 19 is the anniversary of the 1995 bombing of the Alfred P. Murrah Federal Building in Oklahoma City." 
The attacks "initially look more like the work of domestic terrorists than an international terrorist network," according to experts interviewed by the Boston Globe. "Early reports suggest that the devices were crudely made — otherwise, they probably would have killed many more people — making it unlikely that they were the work of a foreign government or global terrorist group, such as Al ­Qaeda." And yet, the paper acknowledges: "The bombs could have been set off by radical Islamists from the United States influenced by events or clerics in the Middle East, local extremists on either the left or right, or deranged killers with no ideological agenda."
But Boston police commissioner Ed Davis, along with Representative Peter King in the House, said there was "no specific intelligence that anything was going to happen" at the race, and "a senior FBI official tells TIME the bureau is starting cold on the case." "They're going to be cycling through tape to see if they can identify the packages that were against the side of the building," said Roger Cressey, a former White House counterterrorism official. Time also provided additional information on the steps authorities will take as the situation develops:
If the Attorney General or his deputy decides there is probable cause the attack was foreign planned, investigators will have access to a broad range of authorities available under the Foreign Intelligence Surveillance Act. If it is thought to be a domestic attack, investigations will proceed under more limited authorities, like title three wiretapping or the Patriot Act's surveillance and evidence gathering powers.
Until then, President Obama's words from yesterday evening will be played on loop: "We will find out who did this," he said. "Any responsible individuals, any responsible groups will feel the full weight of justice."
Update, 11:35 a.m.: In a brief statement from the White House, President Obama said, "Any time bombs are used to target innocent civilians it is an act of terror … It will take time to follow every lead and determine what happened. But we will find out." He added, "The American people refuse to be terrorized. What we saw yesterday were stories of heroism and kindness and generosity and love. If you want to know who we are, what America is, how we respond to evil, that's it: selflessly, compassionately, not afraid."
Update, 1:00 p.m.: The Associated Press reports that the bombs "were fashioned out of pressure cookers and packed with shards of metal, nails and ball bearings … the explosives were put in 6-liter pressure cookers, placed in black duffel bags and left on the ground. They were packed with shrapnel."
Update, 9:00 p.m.: FOX 5 Atlanta has obtained exclusive photos of the remnants of the bombs. The crime scene photos show warped pieces of a pressure cooker with an Underwriters Laboratory number visible, and a shredded black bag that might have carried the device.