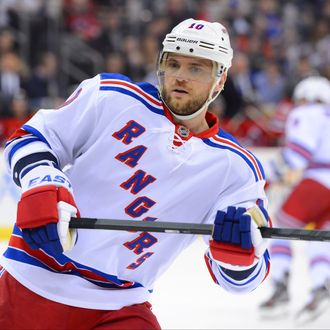 Marian Gaborik.
Photo: Rich Kane/Icon SMI/Corbis
Say this about the Rangers' front office: They weren't worried about how easily the jokes would write themselves if their trade-deadline moves didn't work out. This is a team whose biggest issue was scoring goals … and they made one trade to bring in a player who famously had scored zero times this year, and another one that involved dealing away their leading scorer from last season.
It's that second trade — Marian Gaborik to Columbus for Derick Brassard, John Moore, the currently injured Derek Dorsett, and a sixth-round pick in 2014 — that came as a real surprise. In recent years, Gaborik had been the team's most dangerous scorer, and though that title now belongs to Rick Nash, he was expected to remain an important part of the team's offense. He's always been sort of a streaky player, but this year he'd really struggled: He had just nine goals in 35 games — and that's after scoring five in his first five games. (He scored only two goals in February, and two in March.) Still, he topped 40 goals twice in his first three seasons in New York. He's in a horrible slump, but he's a very skilled winger, and the players the Rangers got in return for him are hardly big names.
So why trade him? Here are four possible factors in the decision, in increasing order of significance:
1. It could be that the Rangers have just given up on Gaborik, who's had trouble finding the net, despite getting some good chances. Therefore, rather than being patient during a critical stretch of the season, they shopped him and got what they could. That said, he's got a stellar track record, and as recently as a few months (maybe even weeks) ago, they believed he would be a big part of a Stanley Cup contender. The reasons for trading him go far beyond his 2013 struggles.
2. It often seemed like Gaborik and John Tortorella had an uneasy working relationship, even if they kept it from becoming a full-blown controversy by mostly saying the right things. Gaborik was never quite Tortorella's type of player, though the coach has said he's made strides. As recently as last month, Tortorella didn't quite know what to do with Gaborik, at one point burying him on the fourth line, and surely embarrassing him in the process. It's no surprise Gaborik would waive his no-trade clause to move on to another organization. That said, the two of them have coexisted for years now, and Gaborik has put together some excellent seasons under Tortorella when healthy. Unless things between the two are worse than we know, surely a lot more went into the decision to move Gaborik.
3. It's possible the Rangers were looking to get rid of Gaborik because they knew they were going to lose him in the off-season. Gaborik, whose contract is up after next season, was a candidate to receive a buyout this summer because of salary-cap concerns, and moving him now allows them to get something in return for him. (This was likely a very real factor in the decision, though depending on what you think of the haul they got back for him, you could even read this as giving up on the 2013 season and abandoning the "win right now" mind-set they began the year with.)
4. But the biggest factor is this: GM Glen Sather is trying to undo a flaw in this team's roster construction that he created in the off-season. With nearly three quarters of the season in the books, we can look with some hindsight into how this team was built, and it's apparent now that in an off-season that brought in an elite player in Rick Nash, they lost a lot of depth, and that hurt them more than Sather or most anyone else expected (us included). We still think the Nash trade was a good one: Losing Brandon Dubinsky hurt — he was a homegrown player who fit nicely in Tortorella's system — but he was plenty inconsistent himself and was coming off a very disappointing season. Artem Anisimov, the other NHL-level player in the trade, was more expendable: He has skill but isn't nearly as physical as we all want someone of his size to be, though he could occupy a spot in the bottom six and contribute a bit. (As for Tim Erixon, he hadn't played a big role in last year's team, and he's inexperienced enough that it was tricky to gauge what he'd contribute in the short term.)
There were other losses in the off-season, too. The biggest of those was Brandon Prust, who got a very good offer from Montreal in free agency. We've long considered Prust the model of the modern NHL enforcer. He can fight, but he can do other things as well, chipping in some goals and killing penalties. (The Rangers' penalty kill, traditionally a strength, is in the middle of the pack this season.) He was an ideal bottom-six forward, bringing a number of things to the table at a low cost. (They also lost Ruslan Fedotenko, another Tortorella Guy, but we're relegating him to parenthetical status because he's on the downside of his career and wouldn't have been the same player he once was even if they brought him back.)
Meanwhile, the new players haven't impressed much: Arron Asham spent some time on the injured list, but even when healthy, doesn't bring quite the range of skills as Prust, whom he essentially replaced. Taylor Pyatt scored three goals in his first four games, but has scored just once since. And Jeff Halpern was waived after scoring zero goals in 30 games with the Rangers, though it's hard to blame him for lack of production considering some of the linemates he was paired with. (Let's just say teams weren't spending a lot of time worried about how to defend the line of Halpern, Stu Bickel, and Michael Haley, another newcomer who's rightfully spent much of the season in the AHL.)
Factor in some underachievement from bottom-six returnees — Chris Kreider has been a disappointment in his sophomore season, and Brian Boyle has been so bad that Tortorella made him a healthy scratch for a stretch earlier in the year — and it was apparent that the Rangers had some flaws in the makeup of the roster. There were issues at the top of the forward corps as well — Gaborik's struggles were matched by those of Brad Richards — and so Sather likely saw this as a way to fix the balance of things, bringing them, he hopes, closer to the mix of last year's team. Essentially, they traded depth to Columbus for Rick Nash, then traded Marian Gaborik to Columbus for depth.
The big question now, of course, is what kind of an impact these new players will have. Moore is a good-skating defenseman, which the Rangers are perpetually looking for, and adds some depth to a defensive corps that had a less than spectacular third pair even before Marc Staal's injury. And Brassard, who's scored as many as seventeen goals and 47 points in the season, adds some stability up the middle. (Dorsett, meanwhile, is out for the season, so he doesn't figure into their short-term roster.)
Meanwhile, in a separate trade, the Rangers also acquired Ryane Clowe, to whom we apologize in advance for all the times we'll inevitably misspell his name. Clowe, in theory, is a good fit for a Tortorella team: He's physical and has the ability to score twenty-something goals. The Rangers were banking on Clowe breaking out of his season-long scoring slump, and he already has, scoring twice in his debut with the team last night. In fact, all of the newbies contributed immediately: The Rangers routed Pittsburgh 6-1 last night, with Clowe scoring twice and adding an assist, Brassard scoring a goal with three assists, and Moore scoring a goal.
Of course, that kind of production won't last. (If Clowe, Brassard, and Moore average eight points a night, they'll cruise to the Stanley Cup. We would not bet money on this happening.) But the hope is that this year's team now better resembles last year's successful team, even if it required a significant makeover at a crucial point of a crucial season for this organization.