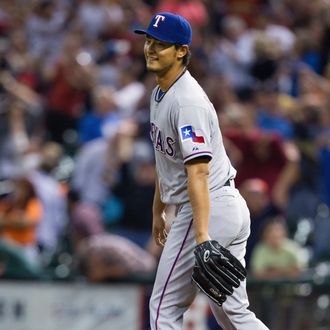 Yu Darvish, after giving up his first hit last night.
Photo: Bob Levey/2013 Getty Images
If you're looking for the most depressing baseball-related website on the Internet, here it is: A complete list of every no-hitter and perfect game lost in the ninth inning since 1961. Everyone's got at least one that makes them pound their fist on the nearest table and yell an expletive just thinking about it. For some, it's Armando Galaraga in 2010, because no matter how maturely he handled it, it's still so frustrating to watch. For others, it's Mike Mussina giving up a hit at Fenway to Carl Freaking Everett in 2001.
Anyway, that site needs to be updated with a new name now: Yu Darvish of the Texas Rangers was an out away from pitching a perfect game against the Astros last night, but gave up a single to Marwin Gonzalez on his 111th pitch of the game. The particulars of this one are especially cruel, because the only person who had any chance to field the ball was Darvish himself. Gonzalez smacked a hard grounder up the middle that Darvish couldn't get his glove on before it traveled through his legs and into centerfield. Not that he should have had the ball, but if that were us, we'd replay that moment in our mind for the rest of our lives. (Darvish, to his credit, had a smile on his face after the hit.)
Still, last night we saw one of the cool things about baseball: that what will surely be the first of many blowouts of the Houston Astros can become the night's most important sporting event. Word of a potential no-hitter or perfect game spreads thanks to Twitter and Facebook, and announcers of other games giving their viewers a heads-up that something is happening. It's like an Emergency Alert System for great baseball moments. And even if perfect games have been happening with more regularity in recent years, they're still rare enough that by the ninth inning, all eyes are on the same game. In this case, unfortunately, that just allowed everyone to be disappointed at the very same moment.
And in case you missed it, here's that moment: