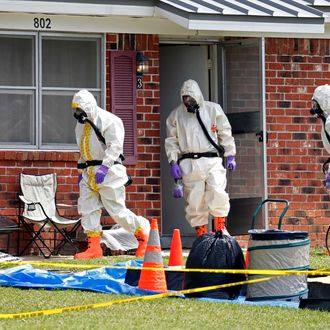 Federal agents search Paul Kevin Curtis's home in Corinth, Mississippi.
Photo: Rogelio V. Solis
Unlike the investigation into the anthrax mailings, which dragged on for years and was never definitively solved, police arrested a man for allegedly sending ricin to President Obama, Senator Roger Wicker, and a Mississippi judge just a day after the first letter was discovered. The suspect, Paul Kevin Curtis, is known for frequently writing to lawmakers and using the phrase "I am KC and I approve this message," which appeared in the poisoned letters. However, the case might not be as clear cut as it originally appeared.  The Associated Press reports that a search of Curtis's home and car didn't turn up any ricin, ingredients and devices used to make the poison, or even a search for ricin on his computer. 
A preliminary hearing in the case started last week, and now the defense is arguing that the government can't continue to hold Curtis without bail since there's no physical evidence. "He is the perfect scapegoat, the perfect patsy, and it's really sad because at first everybody's like, you know, he's kind of crazy, maybe he did it," defense lawyer Christi McCoy told the L.A. Times. "But as the searches continued, there's just nothing on this guy. Nothing on his computers, in his car, in his house." Curtis, who is said to suffer from bipolar disorder, has insisted that he's innocent.
The ricin used in the letters could have been made by grinding castor beans in a food processor or coffee grinder, and while testifying in court FBI agent Brandon Grant suggested Curtis might have thrown out the whole appliance. In court, McCoy questioned why Curtis would be so careful, then sign the letters using a phrase plastered all over his Facebook page and online writings. She also suggested that someone might be framing him. McCoy added that either way, he isn't a an imminent danger or flight risk, and "we want him released."