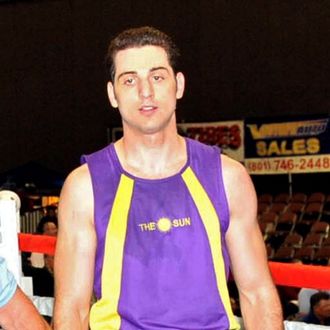 As we learn more about the life of alleged Boston bomber Tamerlan Tsarnaev, who died while police chased him after the slaying of an MIT police officer early Friday morning, we are also learning about some of his romantic relationships. His ex-girlfriend, Nadine Ascencao, remembered Tsarnaev as a high-school bully on Monday, though one who "never really did anything major." Tsarnaev's wife, Katherine Tsarnaeva, hasn't yet spoken publicly. But her acquaintances, a former teacher, and her lawyer described her on Monday as a promising artist who had dropped out of school and converted to Islam when she married Tsarnaev.
Tsarnaeva was born Katherine Russell, grew up Christian in North Kingstown, Rhode Island, and excelled in art, the Associated Press reports. But sometime while Russell was attending Suffolk University from 2007 to 2010, she met Tsarnaev at a nightclub. They dated, broke up, dated again, and eventually got married, her lawyer Amato DeLuca told the wire service. She didn't know anything about Islam when she met Tsarnaev. But DeLuca wouldn't say whether she converted because of her relationship with him. "She believes in the tenets of Islam and of the Quran," he told the wire service. "She believes in God."
Tsarnaev's mother Zubeidat Tsarnaeva, who lived with the couple and their 3-year-old child in Cambridge before returning to Russia, told ABC News, "she is a serious, good, American girl who converted to Islam as if she had always been a Muslim. We all love her a lot." DeLuca told ABC that while Tsarnaev was allegedly plotting his attack, "she was working, and had been working all week to support her family," as a home health aid. A woman who visited Zubeidat Tsarnaeva for facials told the AP, "she was a very sweet woman, but I think kind of brainwashed by him," referring to Tsarnaev.
Until Monday, all most people knew about Tsarnaev's relationship with his ex-girlfriend was that she accused him of slapping her in 2009. On Monday, Nadine Ascencao refused to talk about that episode with The Wall Street Journal, but told the paper that Tsarnaev had been a bully in high school. "He was a little tough guy, but I thought that was it. In high school, everybody acts like that. Like a bully guy, you know?" But she told the paper he wasn't violent. "He was just like a normal person that sometimes like wanted to scare kids in high school but that was it."
Ascencao told The Journal she was "disgusted" by Tsarnaev's alleged final act. When she learned he had died, "I didn't even cry or anything."