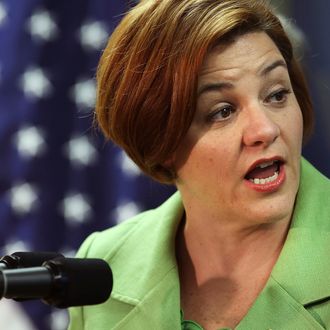 Photo: Spencer Platt/Getty Images2012 Getty Images
In yesterday's front-page New York Times story, in which City Council Speaker and mayoral favorite Christine Quinn first revealed her struggles with an eating disorder and alcoholism around the time of her mother's death, the reporter Kate Taylor noted, delicately, that the candidate reached out to the paper with the story herself, "as her aides try to soften her often rough-edged political image and build a campaign that draws heavily on her personal appeal to women." Okay, fair enough, but it's not like she's making it up. And to insinuate as much would belittle the importance of a woman in power speaking candidly about issues affecting women everywhere, including the author of the story, right?
And yet … "Ha ha ha," fake-laughed former Republican Senator Al D'Amato last night on NY1, from his place of privilege. "Ha ha ha. Oh, gimme a break."
The rest of the "Wiseguys" panel of New York political insiders, including former governors Eliot Spitzer and David Paterson, grew visibly uncomfortable and the host shot back, "Not a laughing matter, Senator." The 75-year-old D'Amato did not take the hint.
"I'm crying," he continued, taking on a whiny Quinn voice. "My campaign is suffering. I'm going down." D'Amato is supporting Bill Thompson for mayor, although such a display isn't exactly helpful. "It's a bunch of bunk," D'Amato added, in conclusion. Spitzer and Paterson, meanwhile, both defended Quinn, calling it an "intensely sympathetic and humanizing story," politics aside, and for a moment, the generation gap looked a million miles wide.