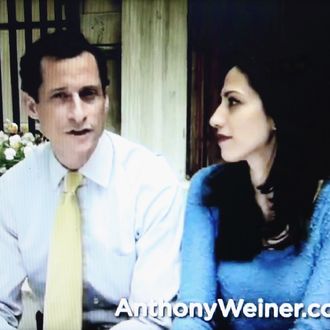 Yesterday he kept his distance. Following the premature release of a YouTube video announcing he would indeed run for mayor, Anthony Weiner stayed inside, taking calls from an array of reporters and telling them each the same thing: I'm sorry, I have ideas, and I deserve a second chance. Or, in the words of the Post's self-described "known pussycat" Andrea Peyser, "Shame-faced, prickly and evasive, Anthony Weiner stayed in hiding yesterday." (He did buy three pizzas for the reporters waiting futilely outside his Park Avenue apartment.) "I didn't go to rehab anywhere," he told Peyser, who pushed him on the dirty pics. "A couple of days I worked with a therapist in Texas I was referred to. Two days, twice, for a total of four days. Or, it might have been three." Like much of the press, she remains unconvinced he's changed, but is giddy to watch him try.
Today, Weiner hit the streets.
After taking the subway uptown, Weiner appeared at his first in-person event, a press conference in Harlem. Reporters seemed to be enjoying themselves, at least for the spectacle.
And yet, the climb is still a steep incline. "It may be the loneliest mayoral campaign in memory," the Times' Michael Barbaro writes today, citing the fact that Weiner has "virtually no campaign infrastructure, no labor unions leaping to his side, no army of on-the-ground foot soldiers eager to evangelize on his behalf." (The Daily News cover put it plainly: "HE'S GOT SOME BALLS.") A separate Times fact-check found that the video announcement was loose with words — "while Mr. Weiner was known as a fighter, he was not so well known for making a difference."
Weiner admitted to the AP, "this is going to be a difficult slog, and I'm going to have to have a lot of difficult conversations with people along the way." He said, "I hope at least some of the ideas penetrate, and it changes some of the conversations." And while a Quinnipiac poll yesterday found that 49 percent of city voters don't even think he should run (including 52 percent of women), a new Rasmussen poll, out today, put him within striking distance of Christine Quinn, with 18 percent of those surveyed picking him to her 24 percent. It's a start.