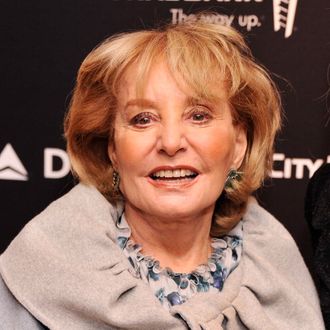 After a rumor surfaced in March that Barbara Walters was thinking about retiring in 2014, the host of The View and veteran ABC News anchor threw cold water on it, saying she had "no announcement to make." Two months later, she does have an announcement to make: Walters now says she'll be announcing her retirement on The View Monday, effective sometime next summer. She doesn't intend to fade out quietly. ABC reports that until her official retirement, Walters "will continue to anchor and report for ABC News, appear on The View, and anchor specials throughout the year including a 20 Years of 10 Most Fascinating People special in December, an Oscars special, and a May career retrospective."
After she goes offscreen next summer, Walters will stay on with The View as a co-executive producer, "and will be involved in selecting new co-hosts to replace Joy Behar and Elisabeth Hasselbeck," according to The Hollywood Reporter. Behar has said she will leave the show after the current season, The Reporter notes, but Hasselback hasn't confirmed she's leaving.
But she told the New York Times' Bill Carter she wouldn't linger onscreen. "I don't want to do any more interviews. I don't want to do any other programs. I'm not joining CNN. This is it."
As Walters tried to quash talk of her retirement last month following a fall at the British ambassador's house, she said on The View that when she was ready to step down she would make the announcement there first, after paparazzi cluttered her doorstep following the rumor she was planning to leave. "But I do want to say this: that if and when I might have an announcement to make, I will do it on this program, I promise, and the paparazzi guys — you will be the last to know." We have a feeling she'll meet one or two of those same photographers on her way to work Monday.