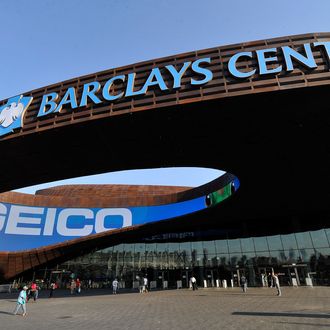 Photo: Stephen Lovekin/2012 Getty Images
The Barclays Center in Brooklyn, however enjoyable a venue, has a problem: At certain bass-heavy concerts, the arena serves as a neighborhood subwoofer, alarming neighbors with rumbling inside their apartments. Acts like Jay-Z, Sensation, Swedish House Mafia, and Rihanna have prompted regular noise complaints on the neighborhood site Atlantic Yards Watch.
"Incredibly disturbing dance music that was so loud my noise machine and pillow on my head couldn't block it out," one resident lamented last October regarding Sensation. "Are you f****** kidding me, why can't the police do something?" another groused after the Rihanna concert Sunday night. Now the venue is being forced to pay up, if not change its ways just yet.
Last week, the arena paid a $3,200 fine — the city's baseline penalty — after noise inspectors found a reading far over the limit during a March 2 Swedish House Mafia show.

Arena reps promise progress, albeit without specifics. "This is something we are going to be vigilant about and get better on," Ashley Cotton, chief of staff for arena developer Forest City Ratner, declared at a community meeting last night. "We are not interested in having any more violations." Cotton shook off a resident's question about whether the Barclays Center could simply stipulate noise limits when it books concerts. Though it's surely simpler to turn the volume down from eleven than to re-engineer the building, the artists — and ticket-sellers — likely want the biggest sound.

While a $3,200 fine may serve as a deterrent to a local tavern, to a giant arena it's nothing. Still, Forest City has a strong incentive to find a solution by the time the first residential tower opens right next to the arena. That, however, won't be until August 2014.