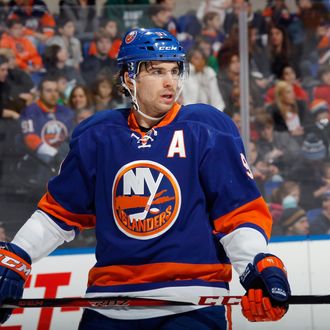 John Tavares.
Photo: Bruce Bennett/Getty Images
Last fall, when the Islanders announced they'd be moving into Brooklyn's Barclays Center when their Nassau Coliseum lease expired, the team said it wouldn't be changing its name or logo as part of the process. Contrast this with the NBA's Nets, who overhauled their look with new colors, a new logo, and new uniforms when they moved out of New Jersey. (They changed their official name, too, though that part was out of necessity.) "In support of the illustrious history of the team, the New York Islanders name and logo will remain unchanged," the team said in a statement at the time. But it sounds like if the Barclays Center has its way, they'll want to rebrand the Islanders much the same way they did with the Nets. And that would be a mistake.
Last month, Brett Yormark, the CEO of the Nets and Barclays Center, hinted to SportsBusiness Daily that the Islanders' look could change when they move to Brooklyn:
While noting that 70 percent of the Islanders'$2 5,000 season-ticket holders have said they plan to retain their tickets in some form after the move, Yormark said, "At the same time, we need to introduce the sport and the game to a new fan base here in Brooklyn. How do you connect those dots? I think we're going to have to meet each other somewhere in the middle. The colors black and white are the new badge of honor in Brooklyn. The question is, Can we weave that into their color scheme, and create a connection to the fans here in Brooklyn?"
And then last week, the Post reported that the sports marketing arm of Barclays Center is considering changing the team's colors. That report said that Barclays Center — which will be taking over the Islanders' business operations when the team moves — is currently holding separate focus groups of Islanders fans and Brooklynites. One focus group participant said he was asked to rate a blue-and-white jersey with no orange — same as the colors of the old Brooklyn Dodgers. (According to the report, Islanders owner Charles Wang will be updated after focus groups have been completed.)
We initially laughed at the line about how "the colors black and white are the new badge of honor in Brooklyn," but it shouldn't be a surprise that Barclays Center brass thinks their new color scheme is so important. When the Nets moved, it was crucial for them to establish a new identity — to put their past in New Jersey behind them and to become not just a New York City team, but a Brooklyn team. Even if it sometimes felt like they had an outsider's view of what "Brooklyn" was, they understood how important it was for the Nets to start fresh in their new location. And so that meant new colors, a new uniform, and a new logo. If fans from New Jersey wanted to follow them after they moved, that was fine. But that fan base was not their primary concern.
We've written this before, but it can't be repeated often enough: The Islanders' situation is very different than the Nets'. When the Islanders move to Barclays Center, they'll desperately want to maintain their existing fan base. They'll want their fans — many of whom live in the suburbs of Nassau and Suffolk counties — to continue to follow the team as they do now, even if the arena's location isn't ideal for them. They certainly won't want to start fresh: Die-hard hockey fans are especially unlikely to change allegiances, and it's hard (though not impossible) to create new hockey fans. For the Islanders to succeed in Brooklyn, they need to convince their existing fans to stick with them, then worry about winning over new fans.
Wang seems to understand this. He reiterated last month that as long as he owns the team, it will be called the New York Islanders (as opposed to, say, the Brooklyn Islanders), and the crest will remain unchanged. (The team, by the way, denied a recent report that he was looking to sell the team.) The problem, as far as Barclays Center executives are concerned, is that the Islanders aren't cool, and neither are their aesthetics. Their logo and uniform are inoffensive — colorful and sort of retro, but not necessarily hip. And that clearly bothers Yormark, who seems to have strong beliefs about what a team in Brooklyn should look like.
When the Nets moved to Brooklyn, they were rebranded with a black-and-white color scheme and a simple logo. Gone were their (relatively) colorful uniforms; they'd now wear minimalistic black-and-white jerseys that Jay-Z helped design. With the freedom to more or less start from scratch — the only nod to their Jersey roots was the inclusion of a shield in their logo — they opted for cool over tradition. The Islanders don't have that luxury.
Technically speaking, a logo is nothing more than a symbol, just like a jersey is nothing more than a way to distinguish different teams during competition. But fans have a strong connection to these things. Islanders fans, especially, are protective of their team's identity, thanks to the Gorton's Fisherman-jersey debacle of the nineties, when the team wore these uniforms for a time before switching their logo and colors back.
That Post article says that Yormark is "leaning toward a recommendation" that the team undergo a complete rebranding and cites a source that says Yormark is more concerned about keeping the Islanders' existing Long Island fan base than he was about maintaining the Nets' New Jersey fan base. That's good — but he needs to see that as a necessity.
The Islanders have been crawling back to relevance in recent years, and this year finally broke through and secured a post-season spot. (Tonight, they'll play their first playoff game since 2007. ) Their fans, who've long had every reason to stay away, finally have something to be excited about. The Islanders are a point of civic pride on Long Island, and while a logo change alone won't necessarily cause fans to stay away, rebranding the team as Brooklyn-cool sends the wrong message. Perhaps there are ways to subtly change the team's look that don't alienate their existing fans while also appealing to whatever sensibility it is they're hoping to target in Brooklyn. But they need to be careful. The Nets' playbook won't work in this case.