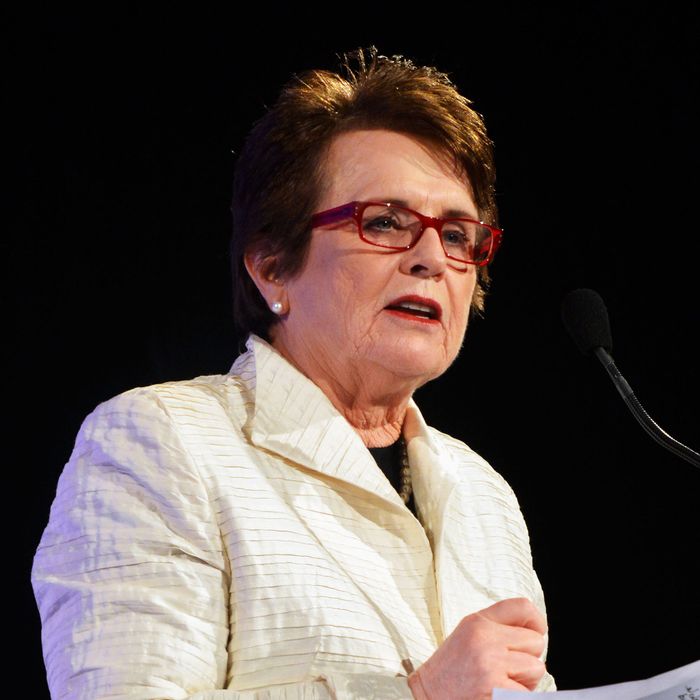 Photo: Mike Coppola/Getty Images
"I am just thrilled that Jason's come out, because we need more male athletes to come out, and we need straight male athletes and women to stick up for us," tennis legend Billie Jean King told Daily Intelligencer at a party for a new documentary on the Williams sisters, Venus & Serena, last night. "I can just say, in women's tennis, everyone was really good to each other. Thank God, but as far as publicly, it was really difficult," explained King, whose 1981 outing resulted in a loss of endorsements and a major hit on her career.
"I got outed, and then Martina [Navratilova] came out because she was going to get outed," King continued. "And that is terrible, because you always want to come out on your own terms. And Jason came out on his own terms. It's so shame-based, but it's so much less shame-based now. But it is the civil rights issue of the early 21st century, without any question, the way that it was in the sixties for people of color."
But King agrees that the media barely notices when female athletes come out, owing in part to the fact that we notice female athletes less in general. "You have to remember that over 90 percent of the media are men, particularly the ones who make decisions," King said.
"Brittney Griner from Baylor, she came out and nobody even talked about it. I don't think I even heard anything. Because we are girls we don't get the attention. Annika Sorenstam played in a PGA tournament and the reason she got so much attention is she was playing with the men. When you are in a men's arena you get attention, and that is all you have to remember. Unless we are beautiful."

Famously sneering writer Fran Lebowitz, meanwhile, blamed the whole hubbub on male immaturity. "Homosexuality is a bigger deal to men because they are more childish. And it's a butch thing, sports," she said. "They are less surprised because they can't imagine any other kind of lesbian. This is all a lack of imagination on everyone's part."