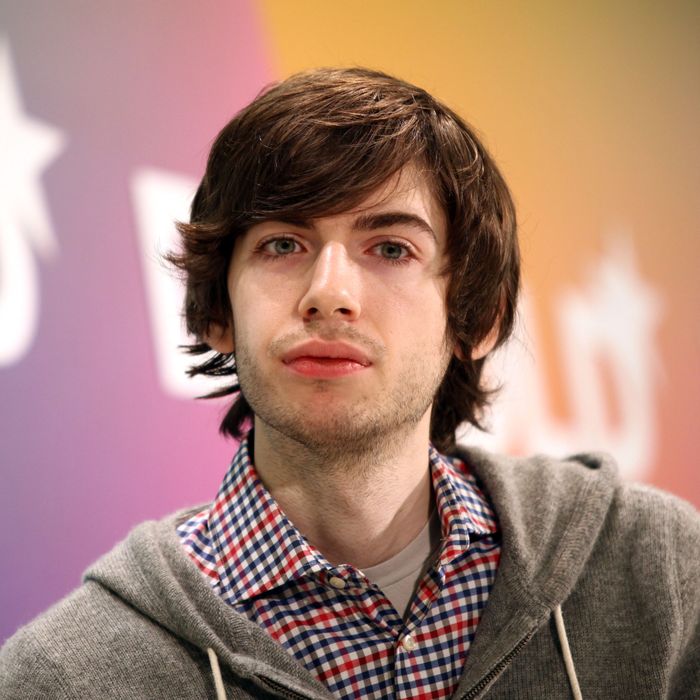 Founder of Tumblr David Karp speaks during the Digital Life Design conference (DLD) at HVB Forum on January 23, 2012, in Munich, Germany.
Photo: Nadine Rupp/Getty Images
Back in 2007, when the New York–based web advertising giant DoubleClick sold itself to Google for a Brobdingnagian $3.1 billion, the sale was a big deal not only because it made millions for DoubleClick's backers and provided Google with the cornerstone of its ad-revenue juggernaut. It also marked the true arrival of the New York tech scene. Finally, with one of its own companies in the billion-dollar club, Silicon Alley could claim to be in the same league as the big boys out West.
In the six years since DoubleClick's sale, New York's tech boosters have had less to brag about. Despite Mayor Bloomberg's quest to attract top tech talent to the city, most of the tech companies that have made it onto the consumer tech A-list — think Instagram, Pinterest, Square — have bloomed on the wrong coast. OMGPop, Buddy Media, GroupMe — all of these New York start-ups fell well short of the ten-figure mark, despite their successes.

"Surely there must be someone else in this city that can put New York on the map with a Big Flashy Exit," PandoDaily's Erin Griffith half-begged last year.
Today, New York's tech scene finally got its flash when Yahoo snapped up Tumblr, the Manhattan-based mini-blogging site, for a cool $1.1 billion. It's a big day for David Karp, Tumblr's 26-year-old wunderkind founder, who will pull an estimated $250 million out of the deal. It's also a big day for Yahoo, which will get some cultural cred to fuel its turnaround effort. Arguably bigger, though, is the effect Tumblr's acquisition will have on the legions of Tumblr wannabes here in the city.
The New York tech scene has always been an odd thing. Provincial yet derivative, proud but permanently assigned second-class status, the city's tech elites have long battled the assumption that if they were serious about building great tech companies, they'd pick up and move to California. New York is still a financial runt compared to Silicon Valley — tech companies based in the New York tristate area raised just $1.8 billion last year, according to MoneyTree, compared to nearly $8 billion raised by Silicon Valley outfits. But the tech corridor here has always had aspirations of equality.
Karp, a Bronx Science dropout, was one of the stalwarts in the fight to legitimate New York as a tech hub. As Tumblr grew, his moppish hair and practiced nonchalance became practically synonymous with the New York tech scene, and his face graced dozens of media profiles of the city's burgeoning tech entrepreneur class. For the thousands of aspiring tech lords in the city, Tumblr was seen as the anchor company — the one that marked New York as a place that could play host to badass start-ups, too. And Karp seemed to relish his role as the city's unofficial tech spokesman.

"There's amazing technology going on in New York but, at least for a little while longer, we're still the underdogs," he wrote earlier this year.

Karp's decision to sell to the Sunnyvale behemoth makes sense from both sides — Tumblr, after all, has never had much in the way of a business model, despite its massive traffic. And Yahoo, which has lots of cash and traffic but little cultural cachet among the coveted twentysomething demographic, will give Tumblr more reach and resources while capitalizing on its popularity with young people. (And, of course, making money by putting advertising on Tumblr streams.) It's true that Yahoo has a long history of running popular acquisitions into the ground. But as tech marriages go, the Yahoo/Tumblr tie-up is one of the more sensible-seeming.

The downside, of course, is that the sale leaves a hole in the New York tech community, which now must make do with lesser giants. Gilt Groupe was valued at $1 billion in 2011 but has seen its competition heat up since. Foursquare is aging and floundering. And Etsy and Warby Parker, two tech companies that aren't really tech companies, are still in their growth phases.
Karp is claiming that Tumblr isn't really leaving New York. "We're not turning purple. Our headquarters isn't moving. Our team isn't changing," he wrote this morning. But tech acquisitions are cultural takeovers, too. A year from now, Tumblr might look the same on the surface, but its corporate DNA will have a California drivers' license.
Another New York tech success story, Dan Porter, learned this the hard way when he sold his company, OMGPop (the game maker behind Draw Something), to San Francisco–based Zynga for $200 million last year. Porter came in to Zynga hoping to be a self-governing sphere within a massive Silicon Valley giant. And yet, a year later, he was out, the victim of a power struggle that resulted from Zynga's meddlesome overreach.
"It's very different, running your own show or working for a big company," Porter told me yesterday. "Everyone promises you autonomy, but it often reverts to the mean, and you find out that the company wants to make its mark on you."
Tumblr's distinct New Yorkishness — its minimalist design, its stripped-down functionality — may suffer a similar fate when it's assimilated into Yahoo's content borg. But that's okay. Because while New York's tech community has lost its capstone tech company today, it's gained something much more important: the respect of Silicon Valley. Tumblr's sale has given New York's tech gurus a local example to follow. And it's made it clear that while the city may not yet be Palo Alto's equal, it's now officially too important to ignore.
So while David Karp may be the one pocketing Yahoo's money this time, every New Yorker should be smiling. Because his success is the city's, too.